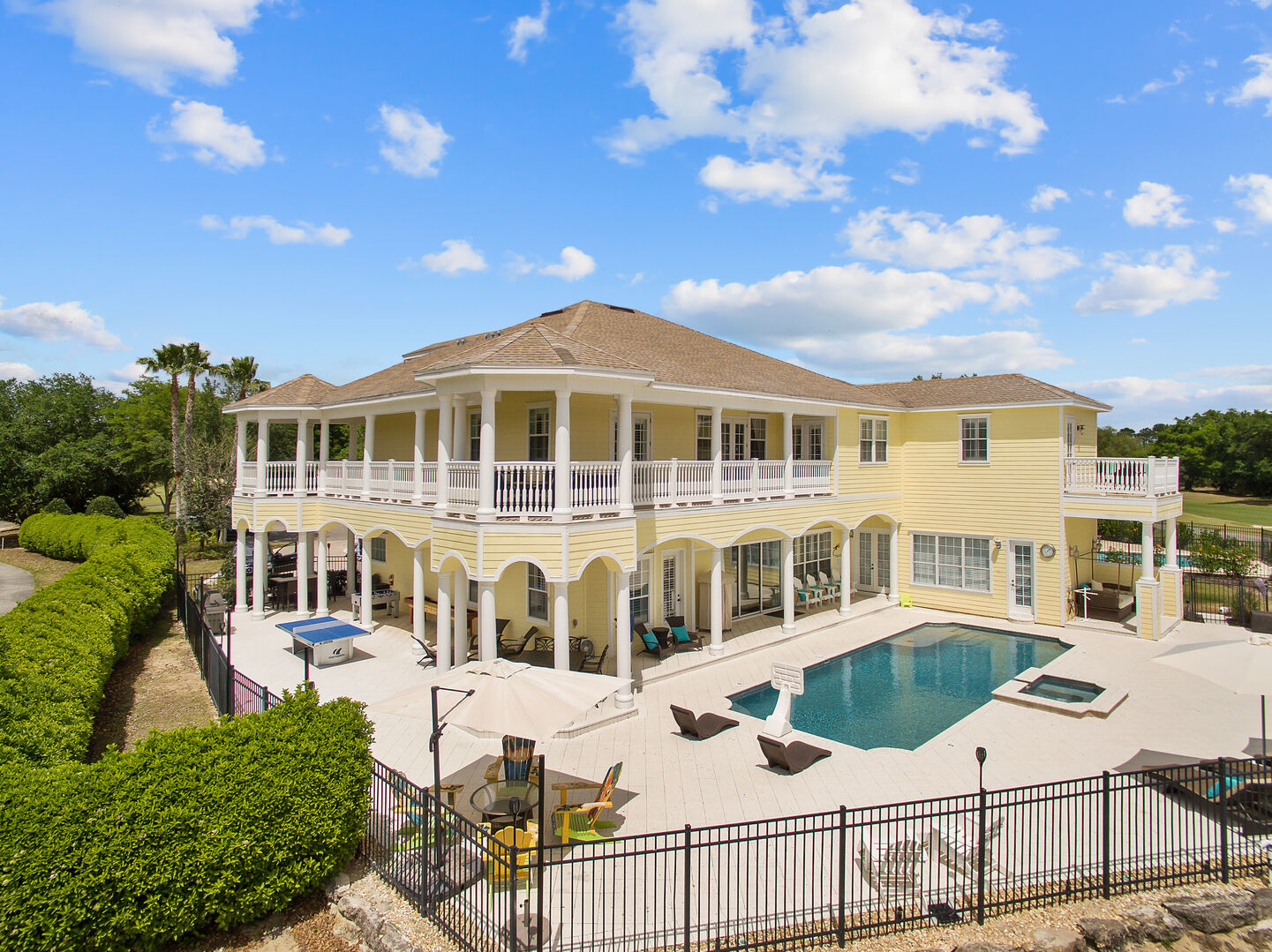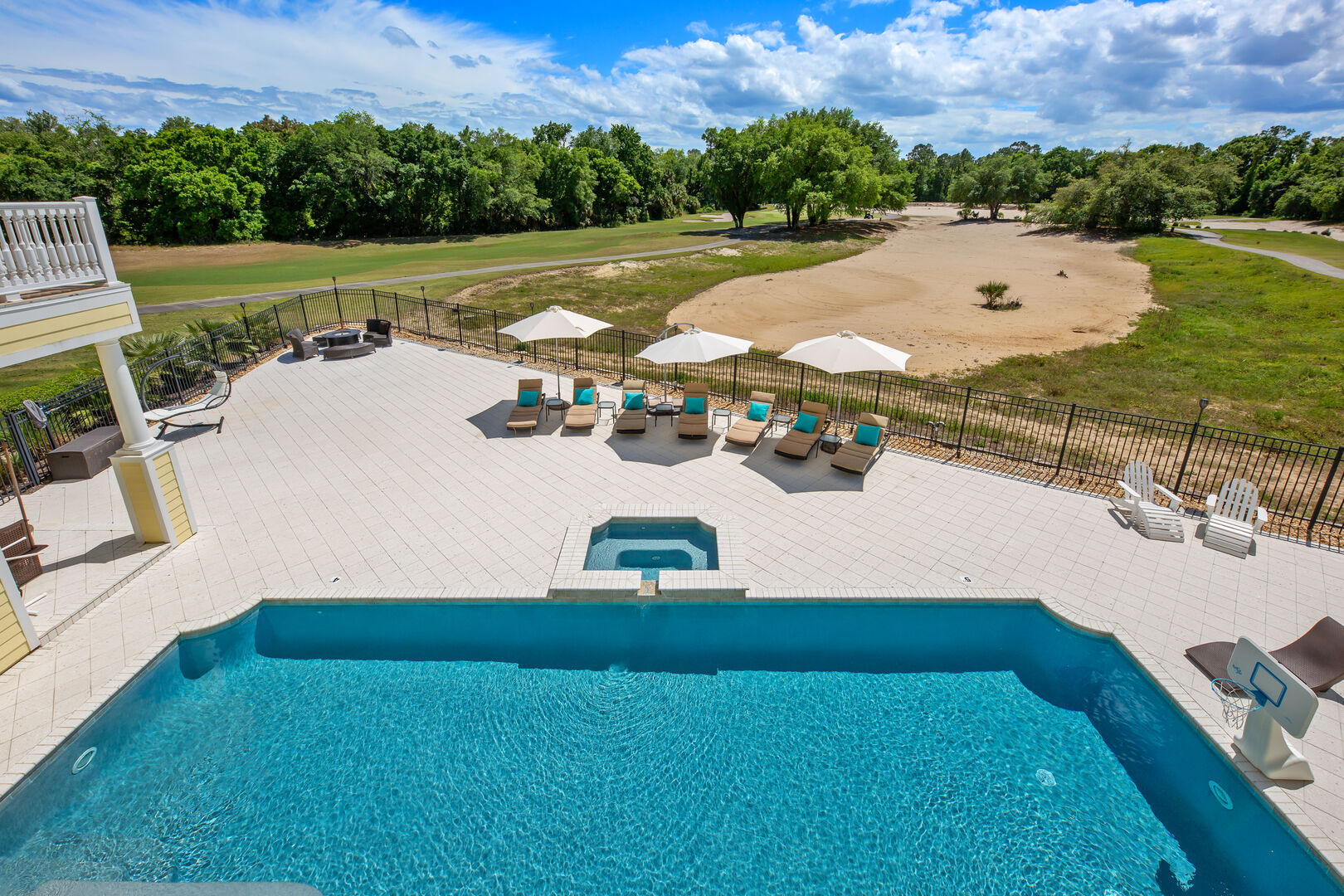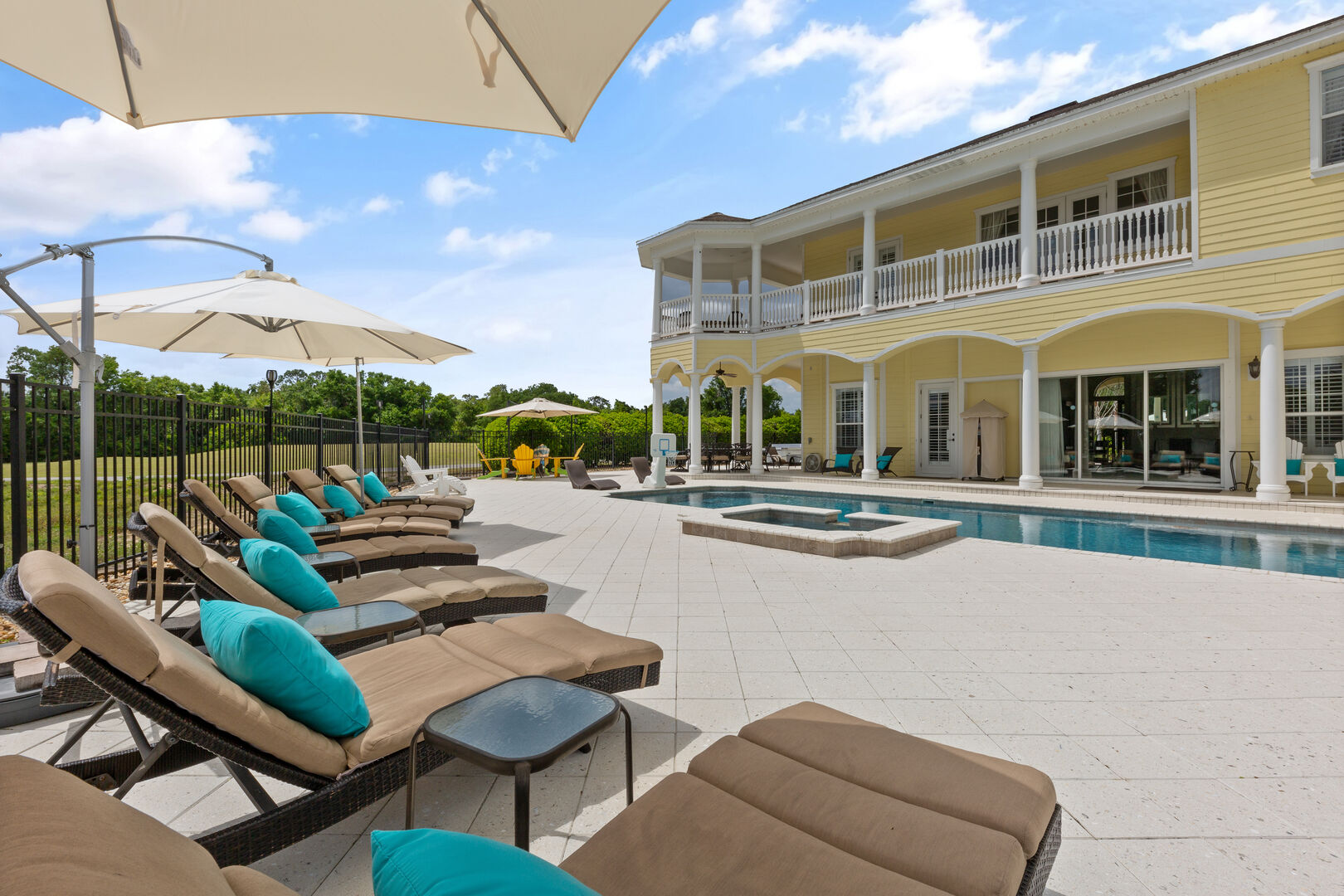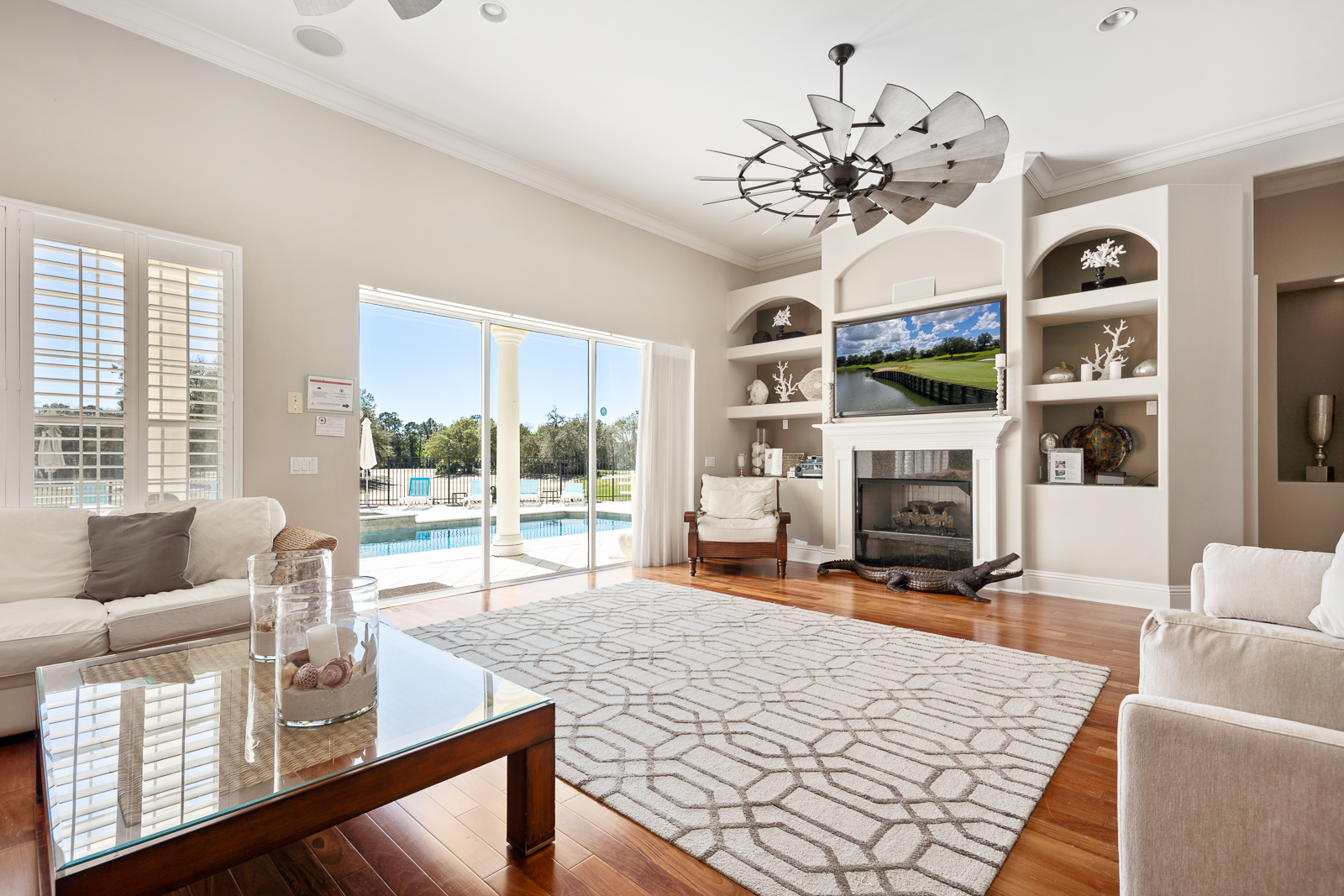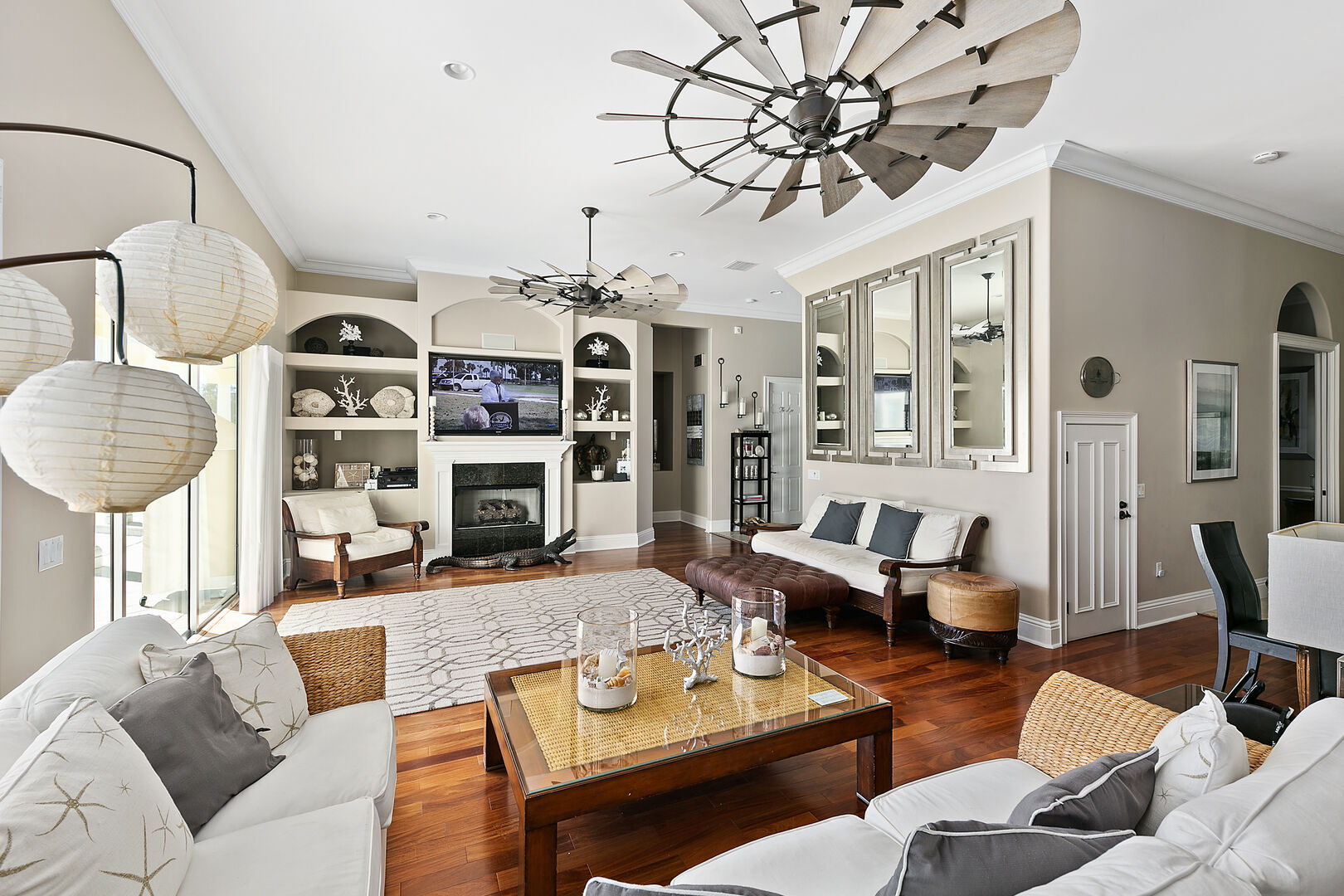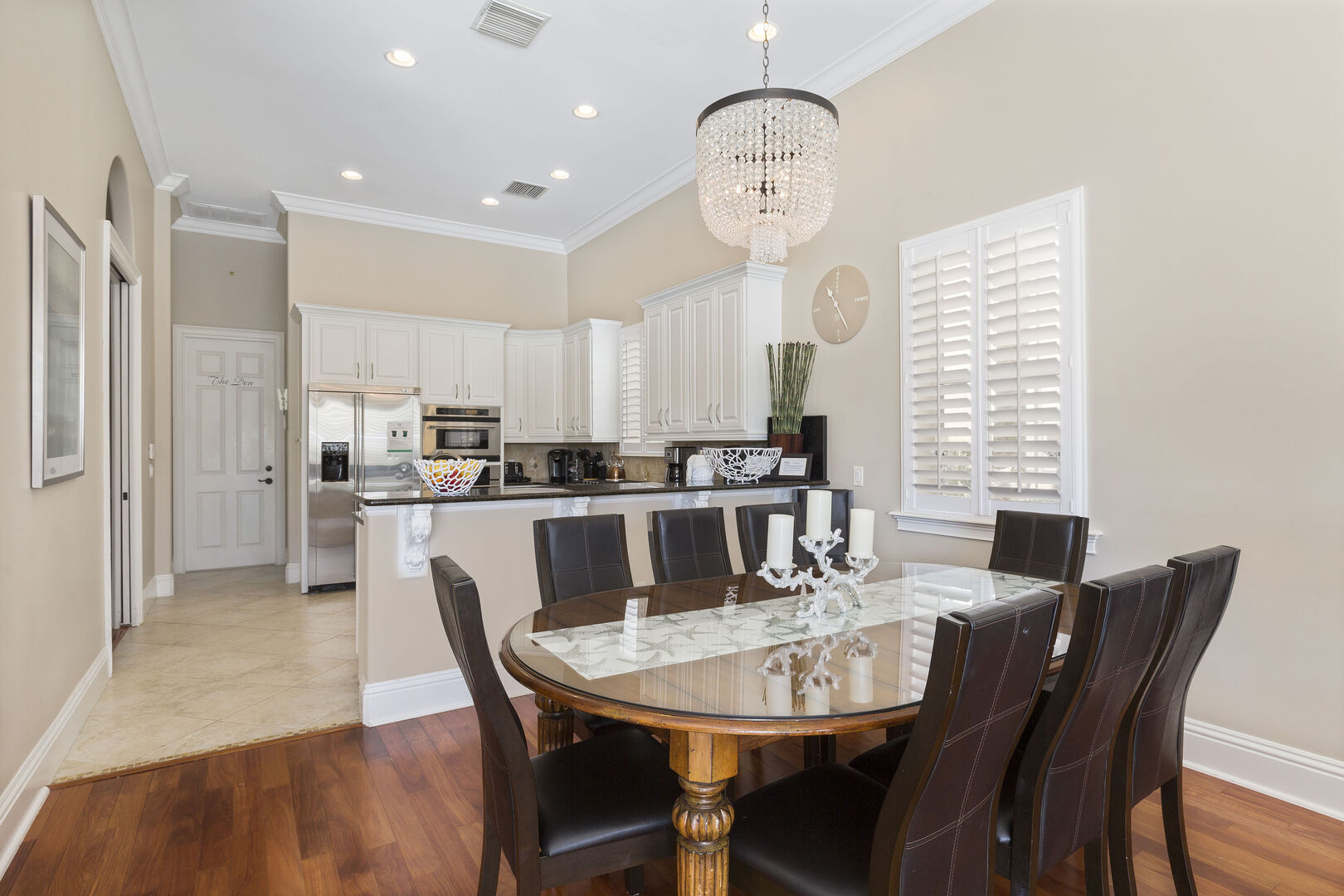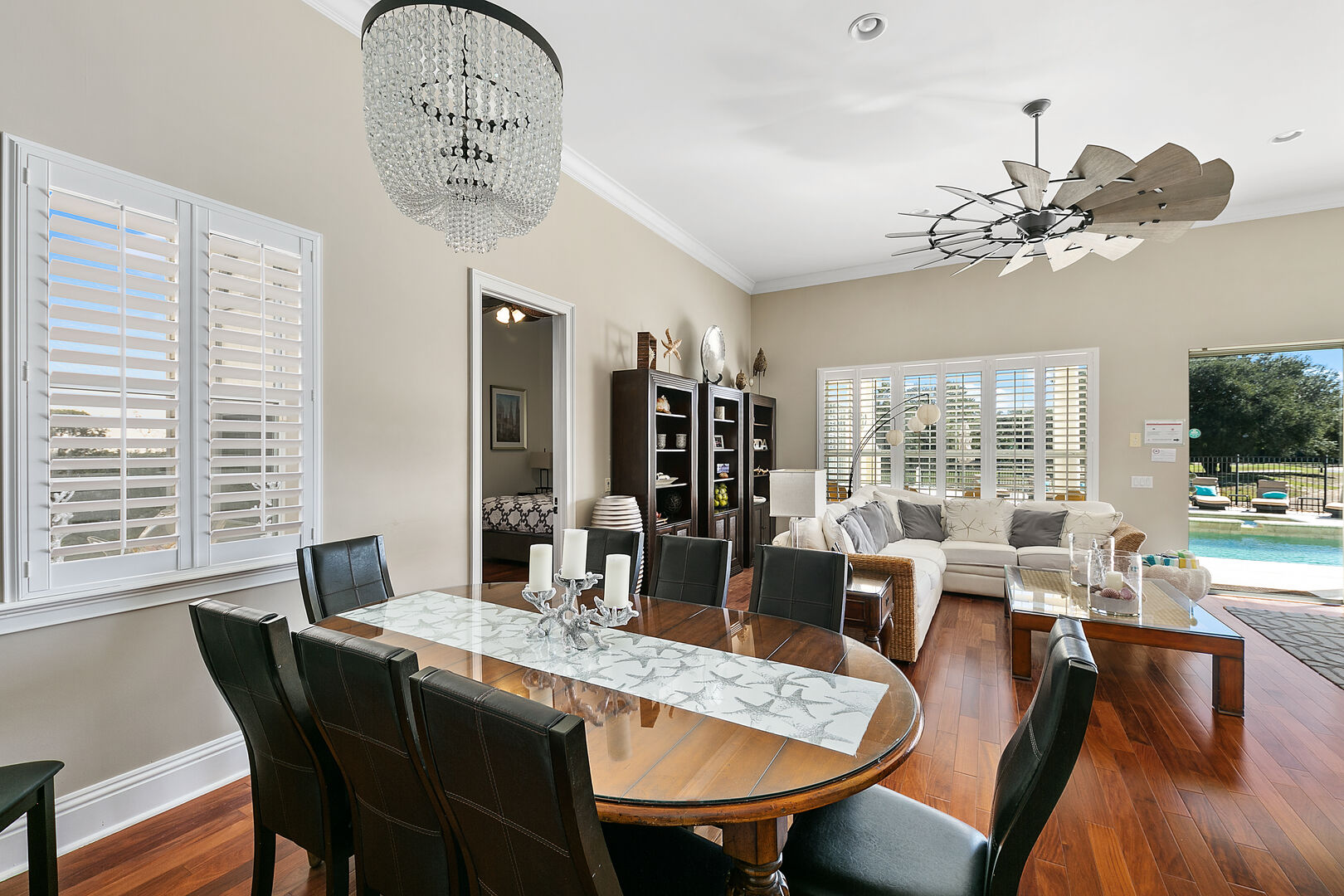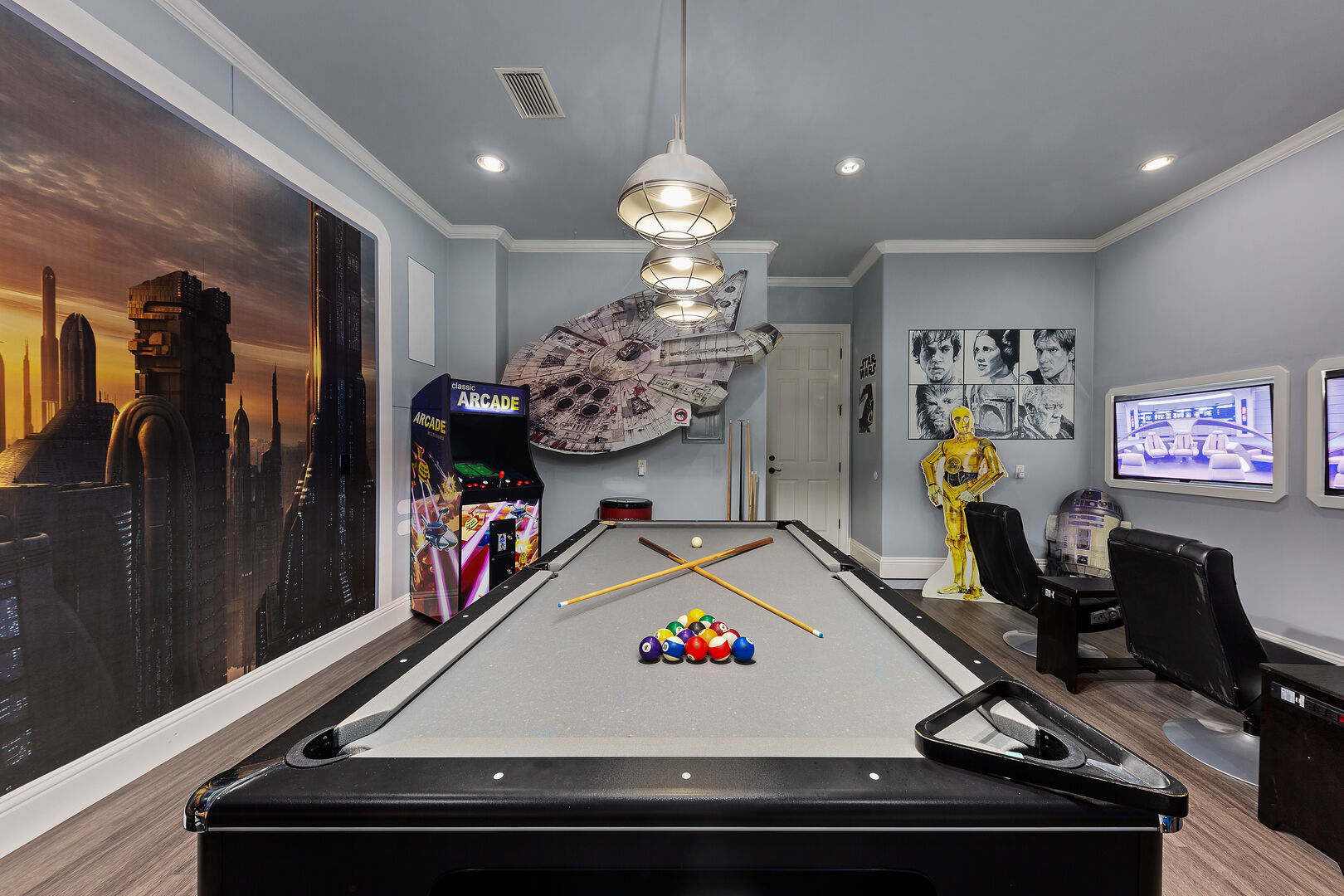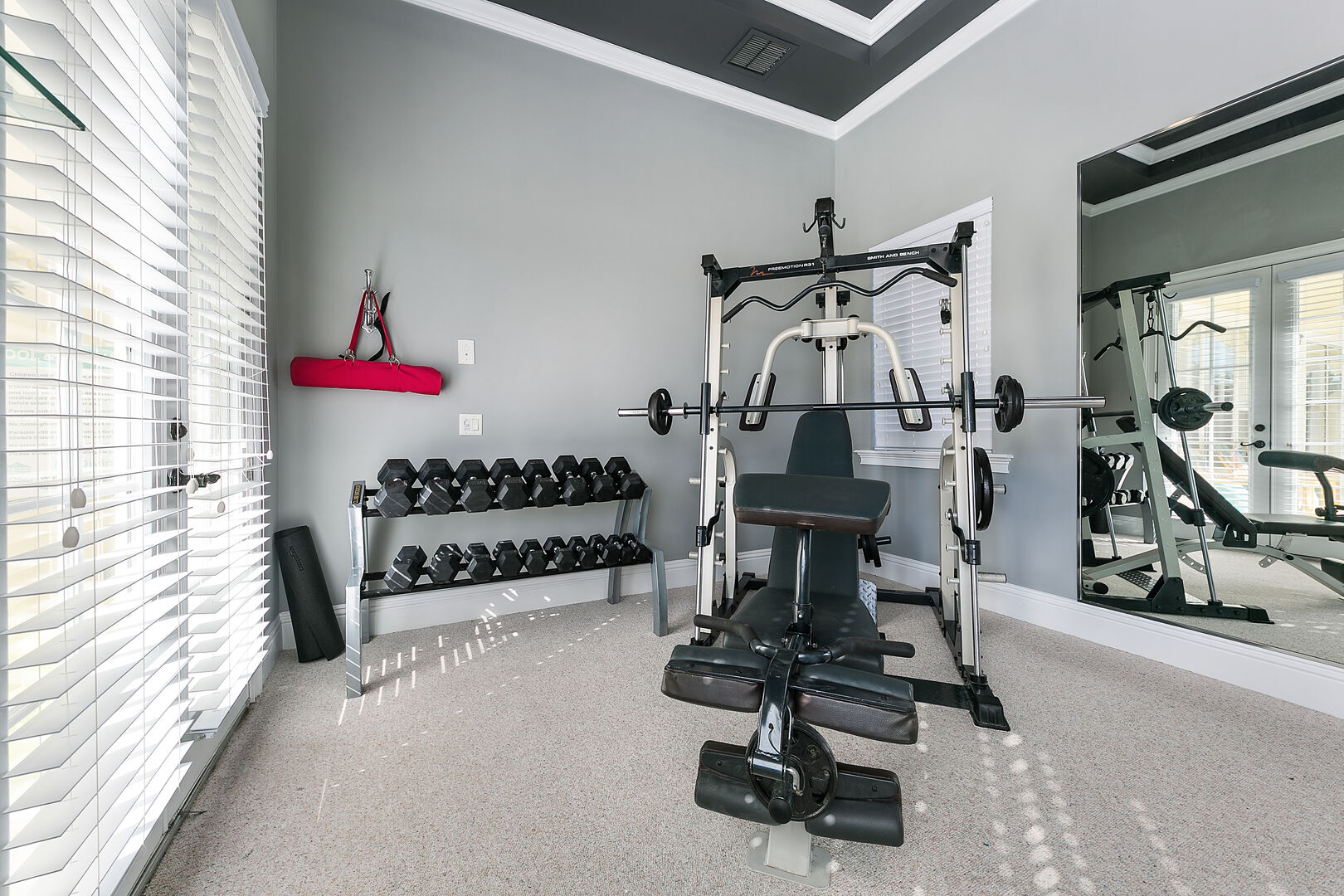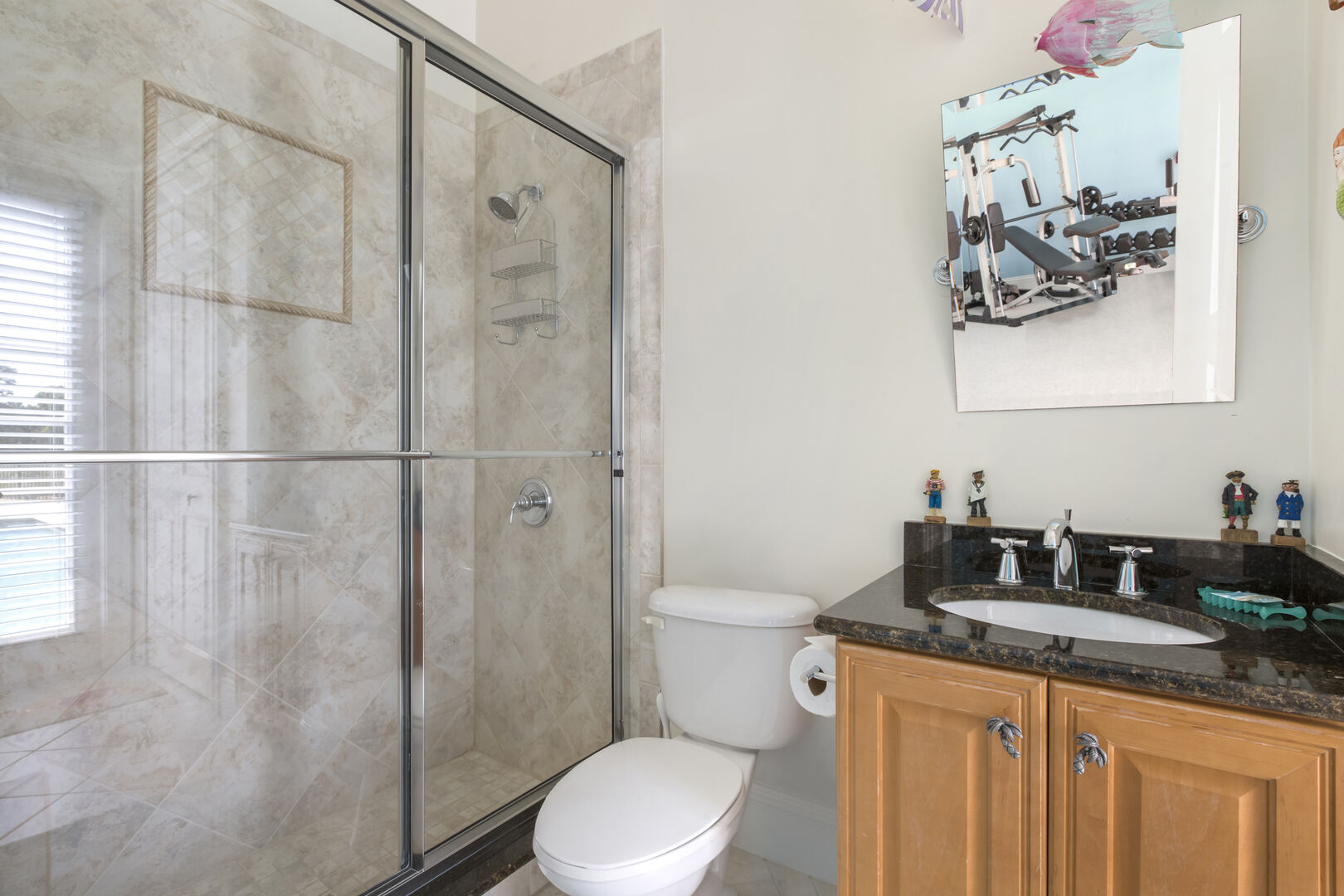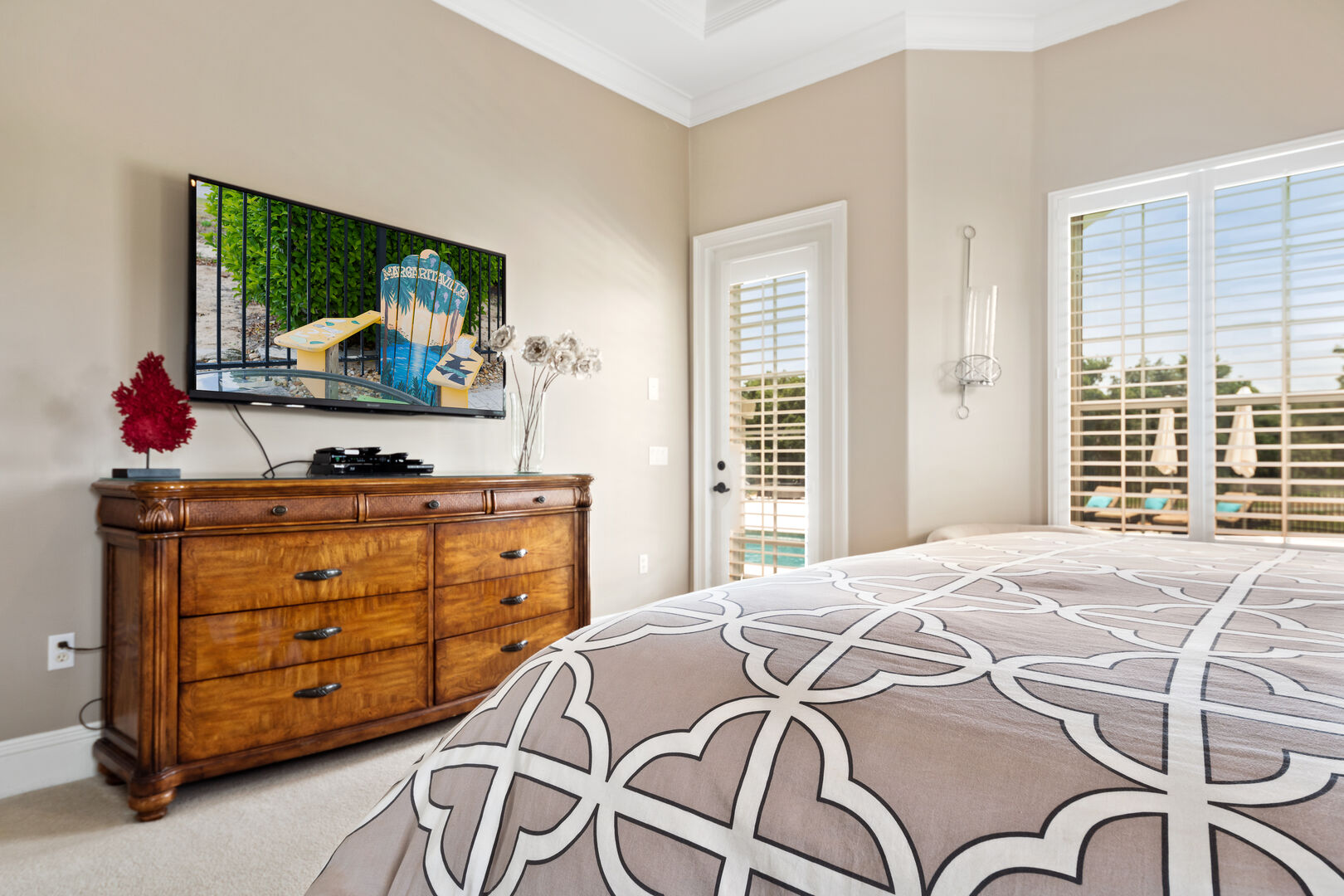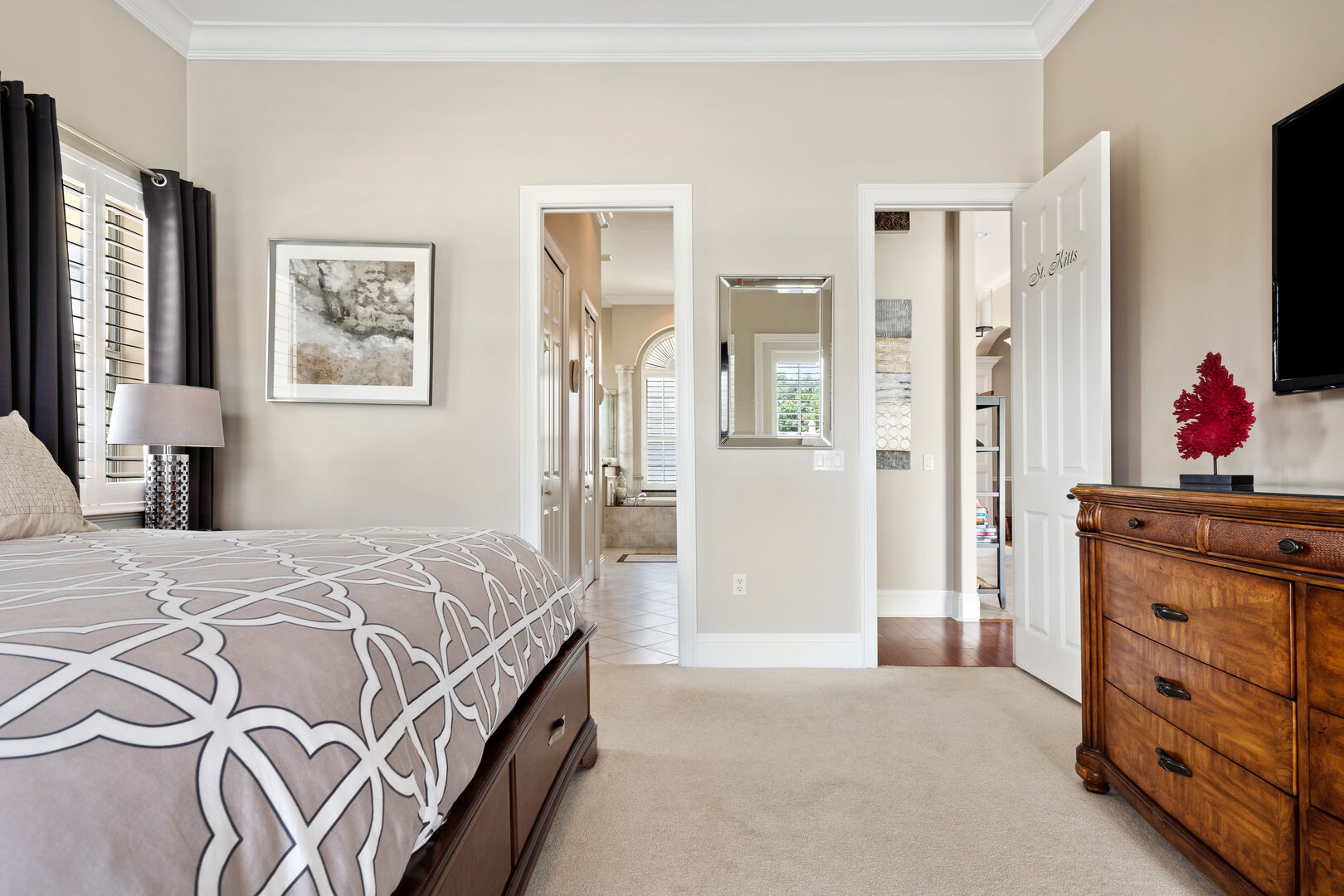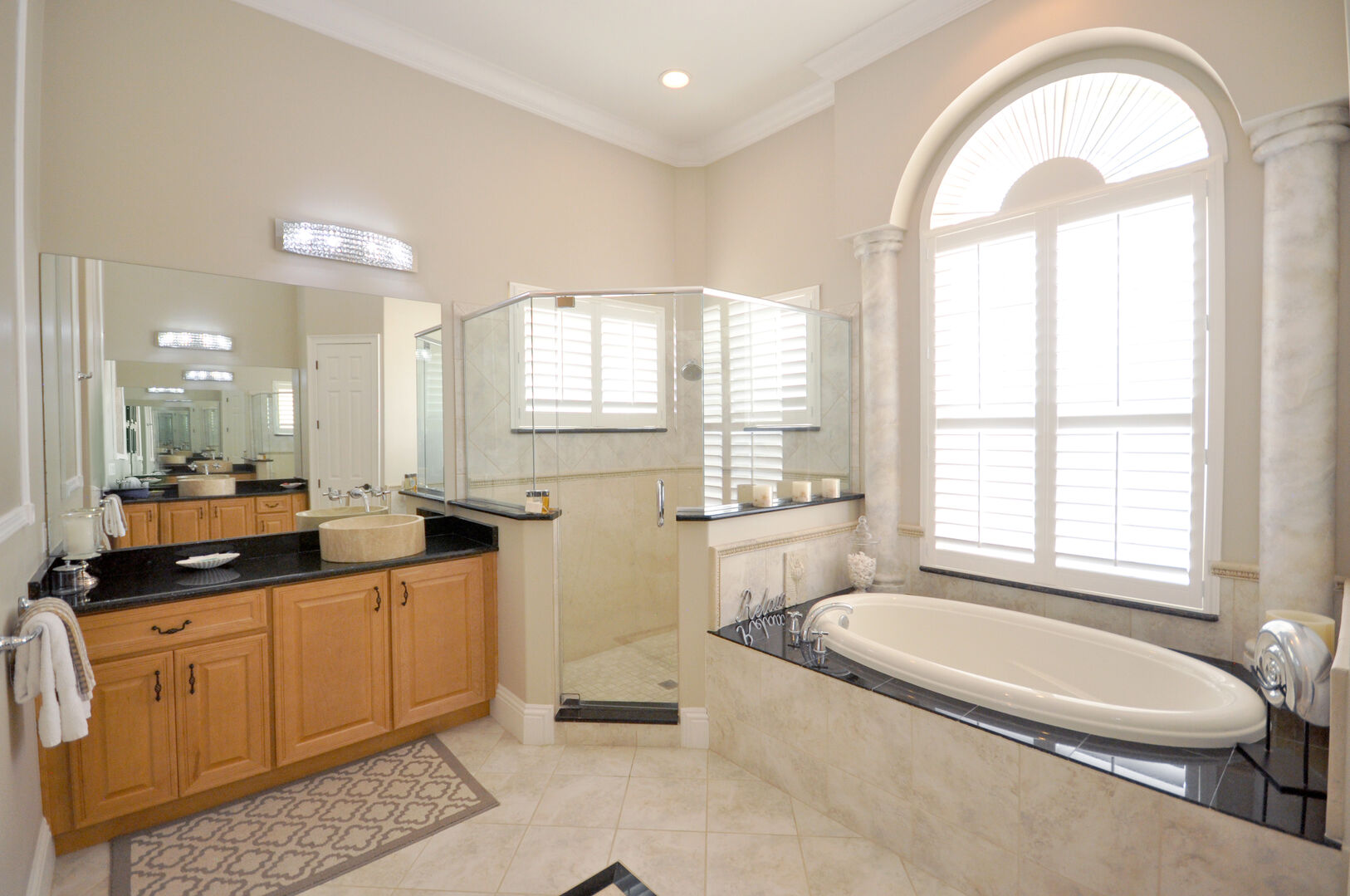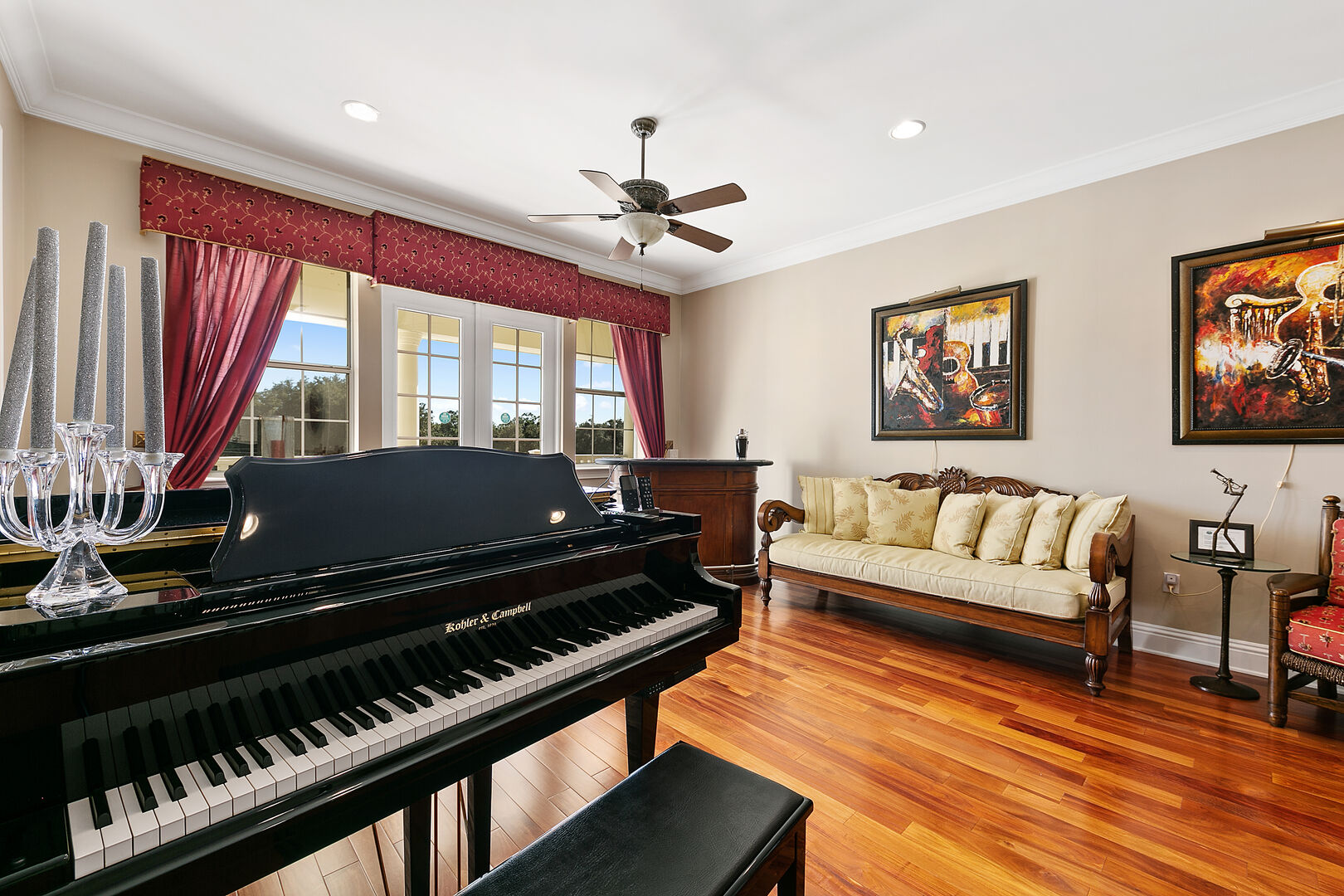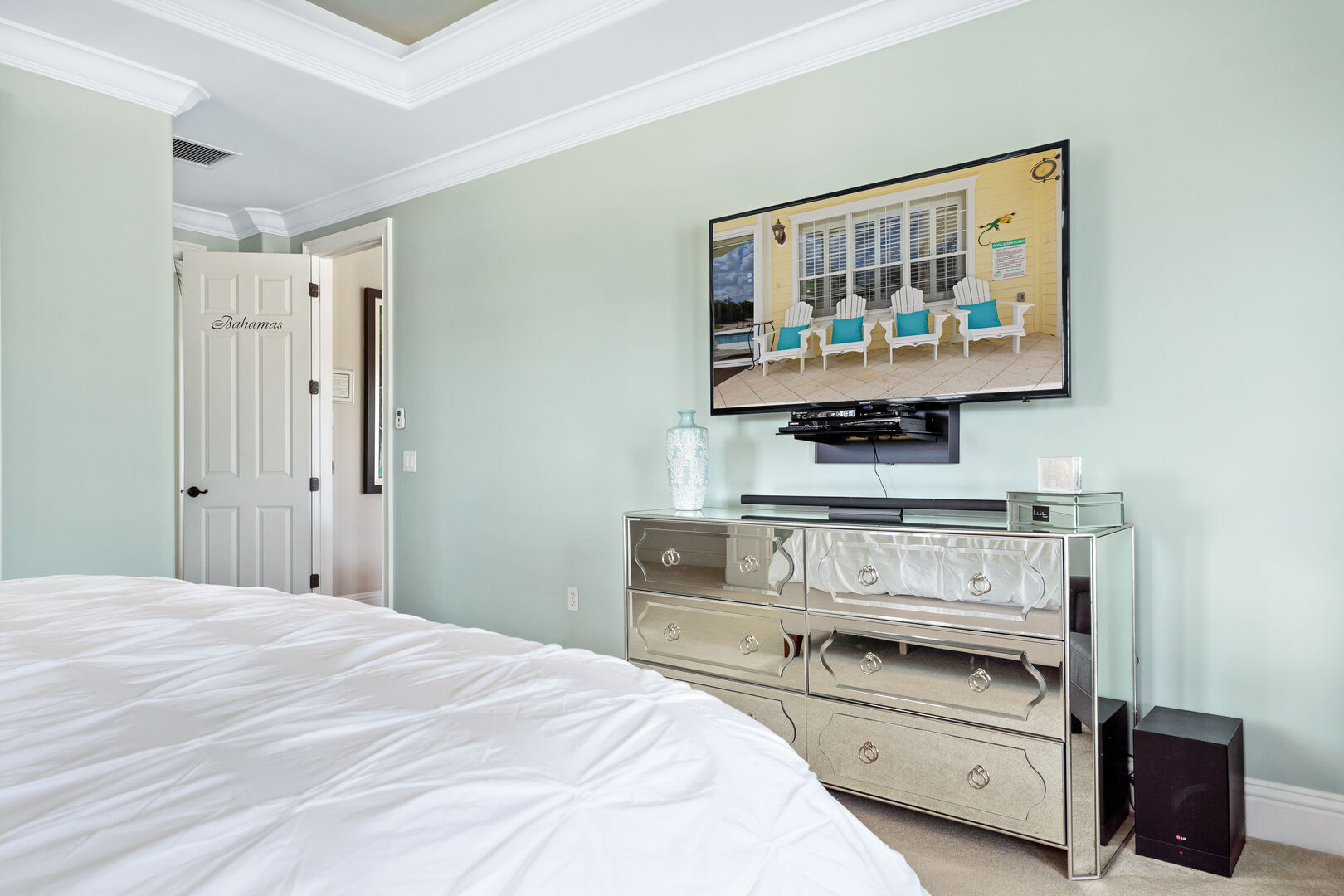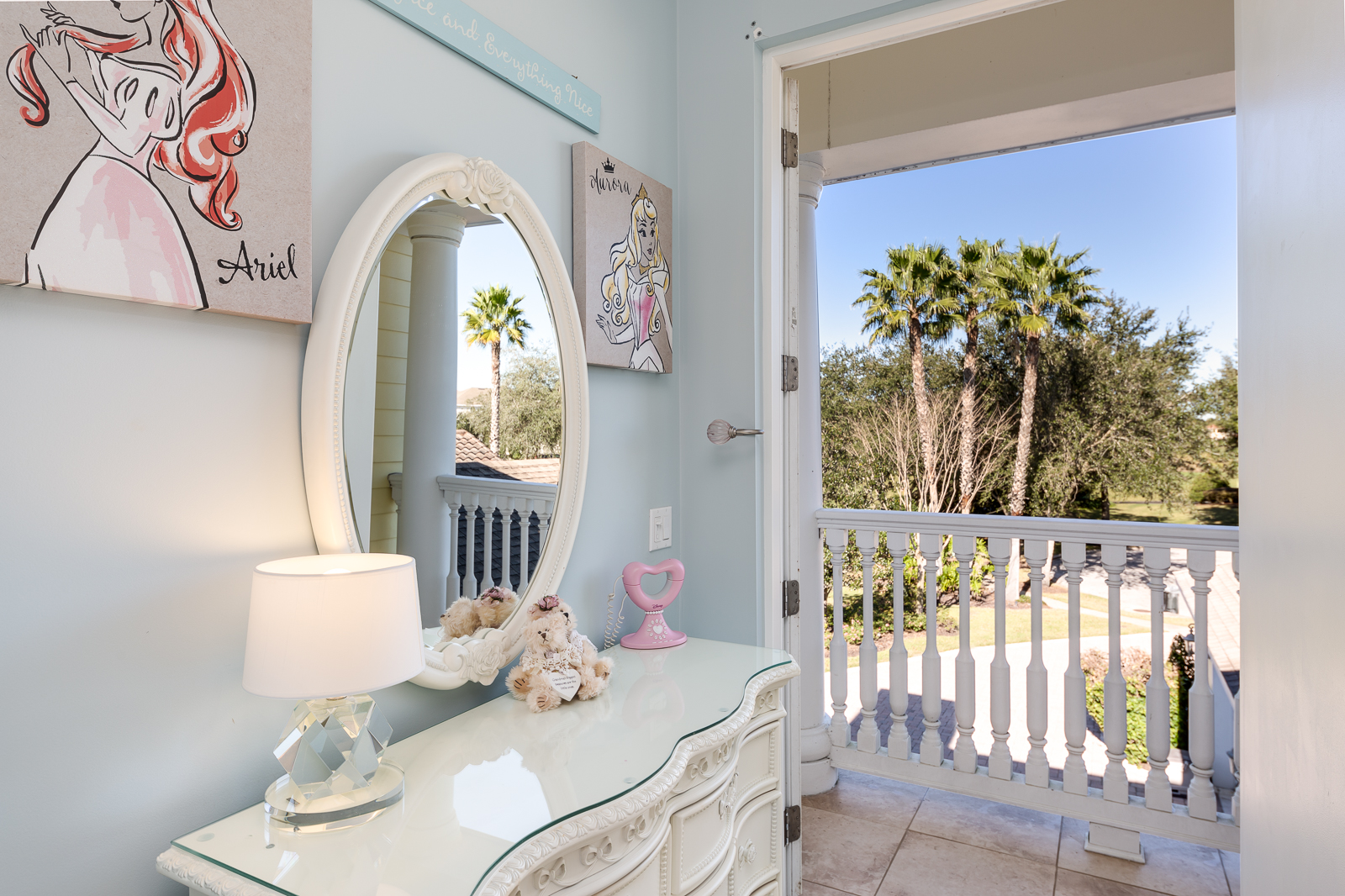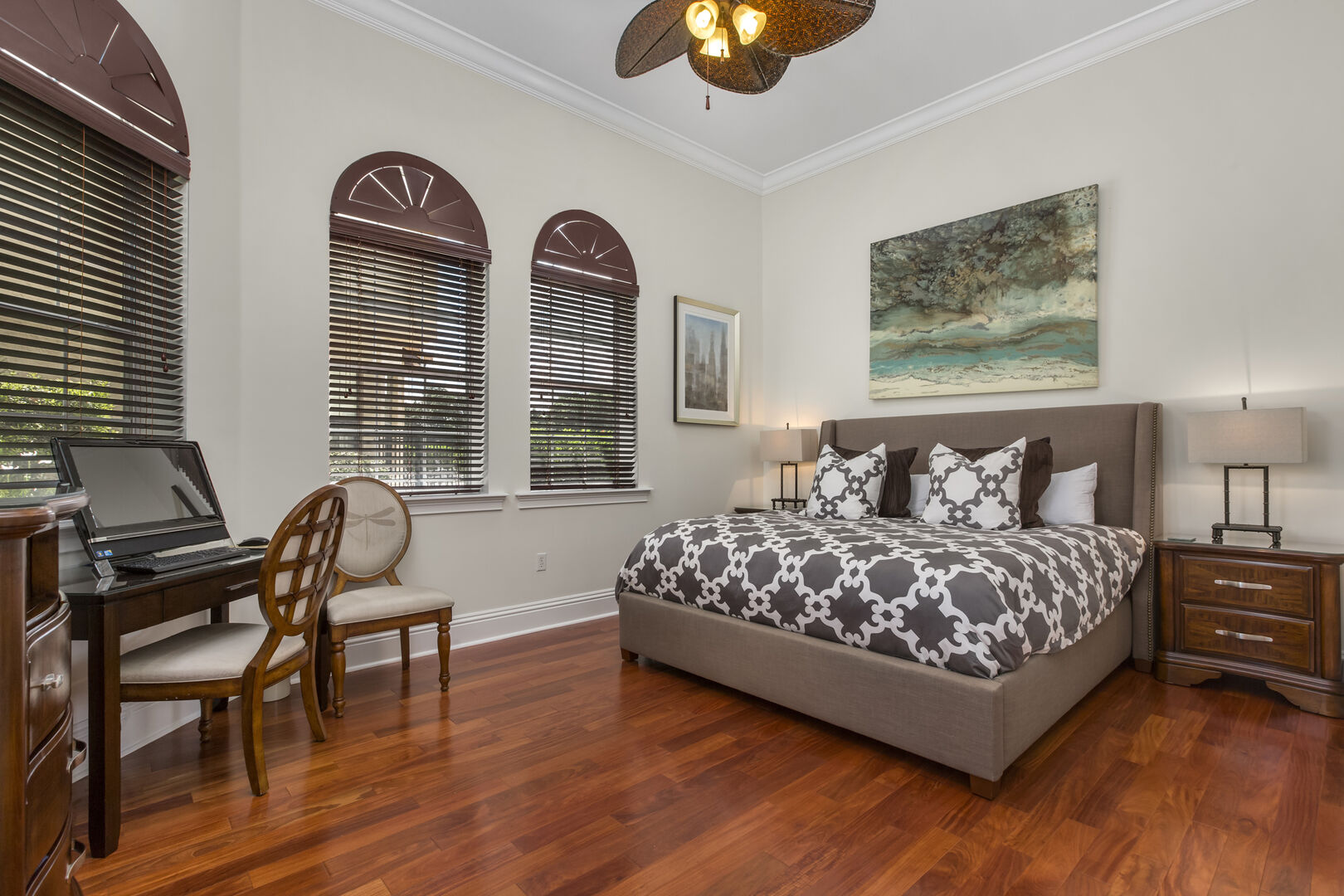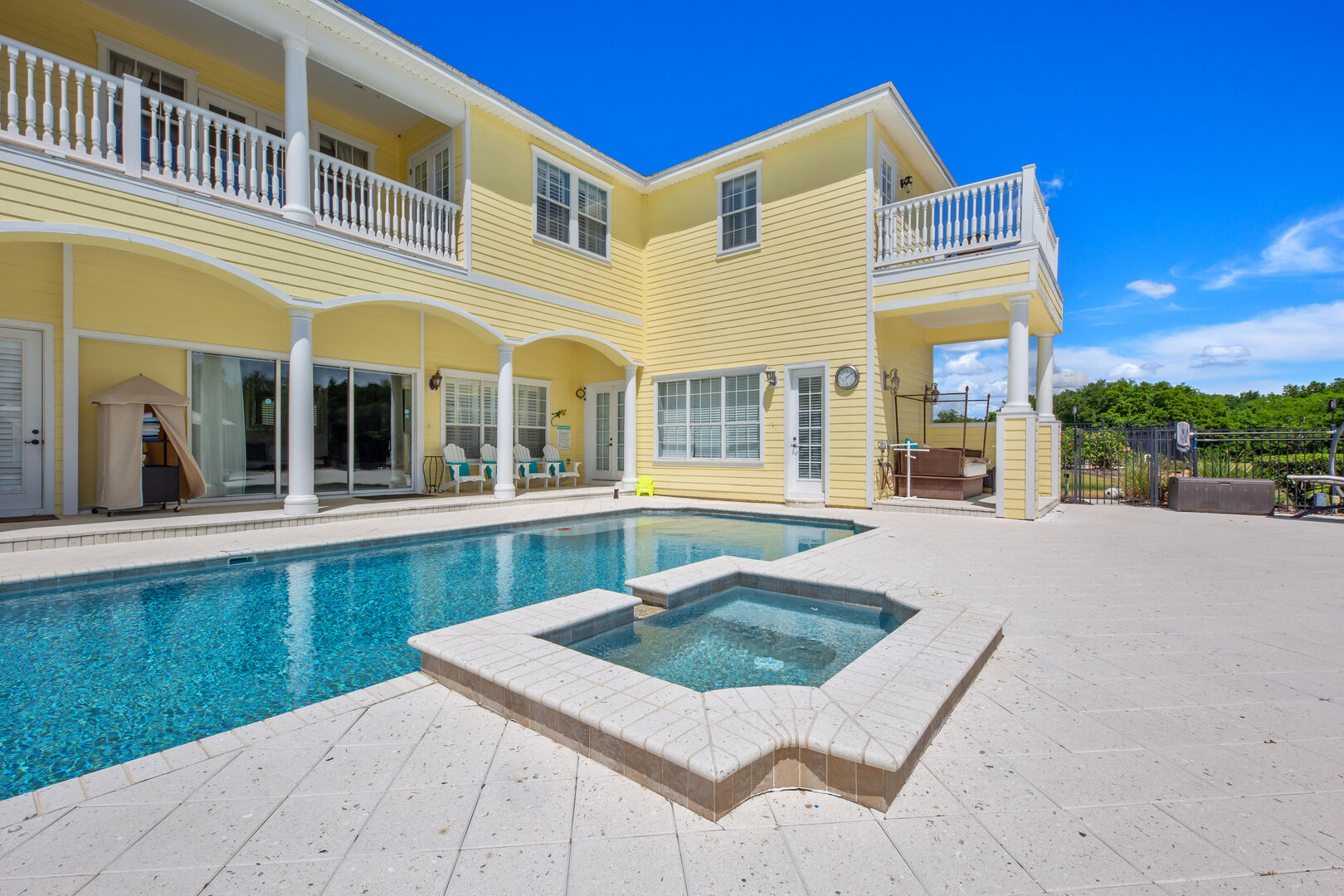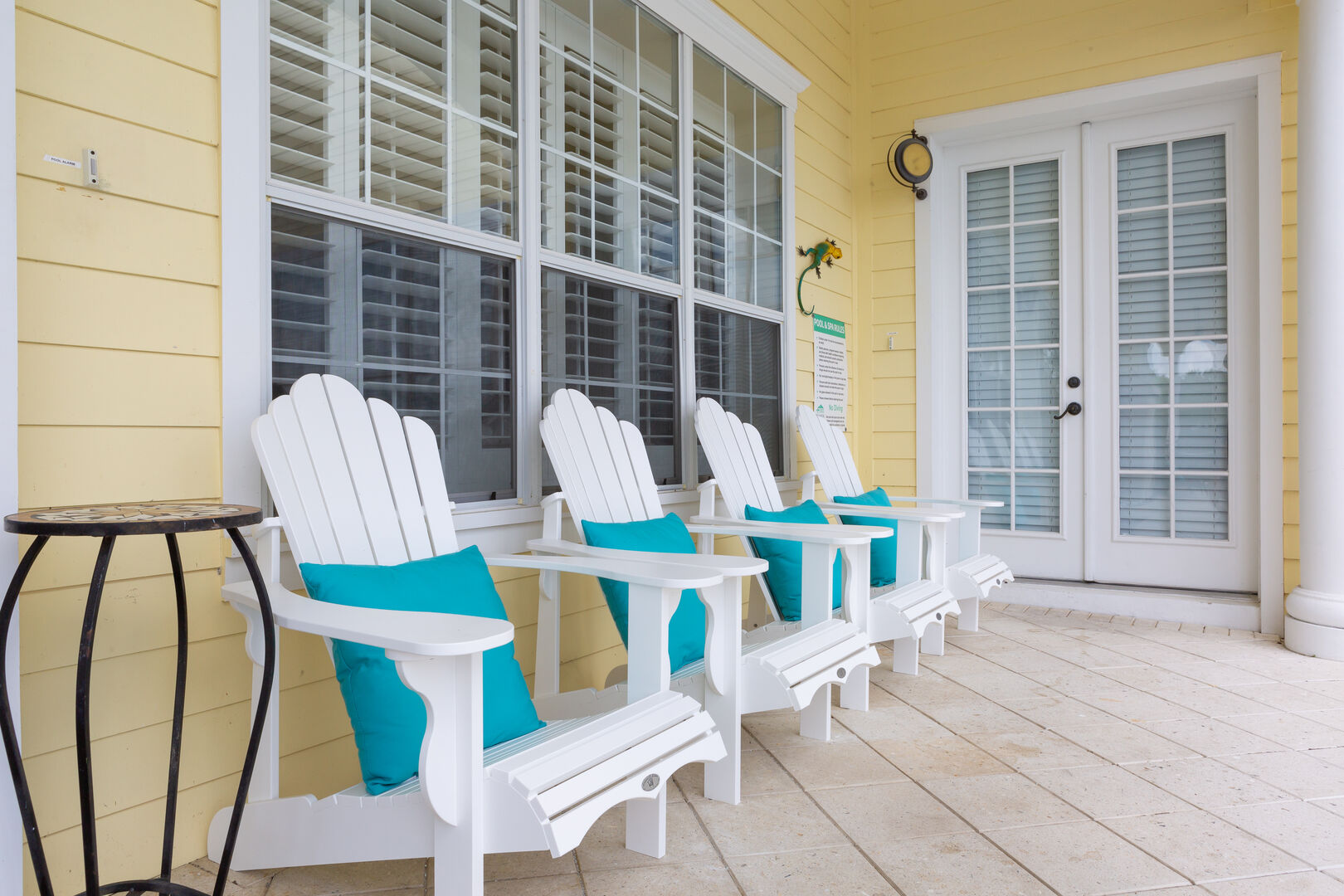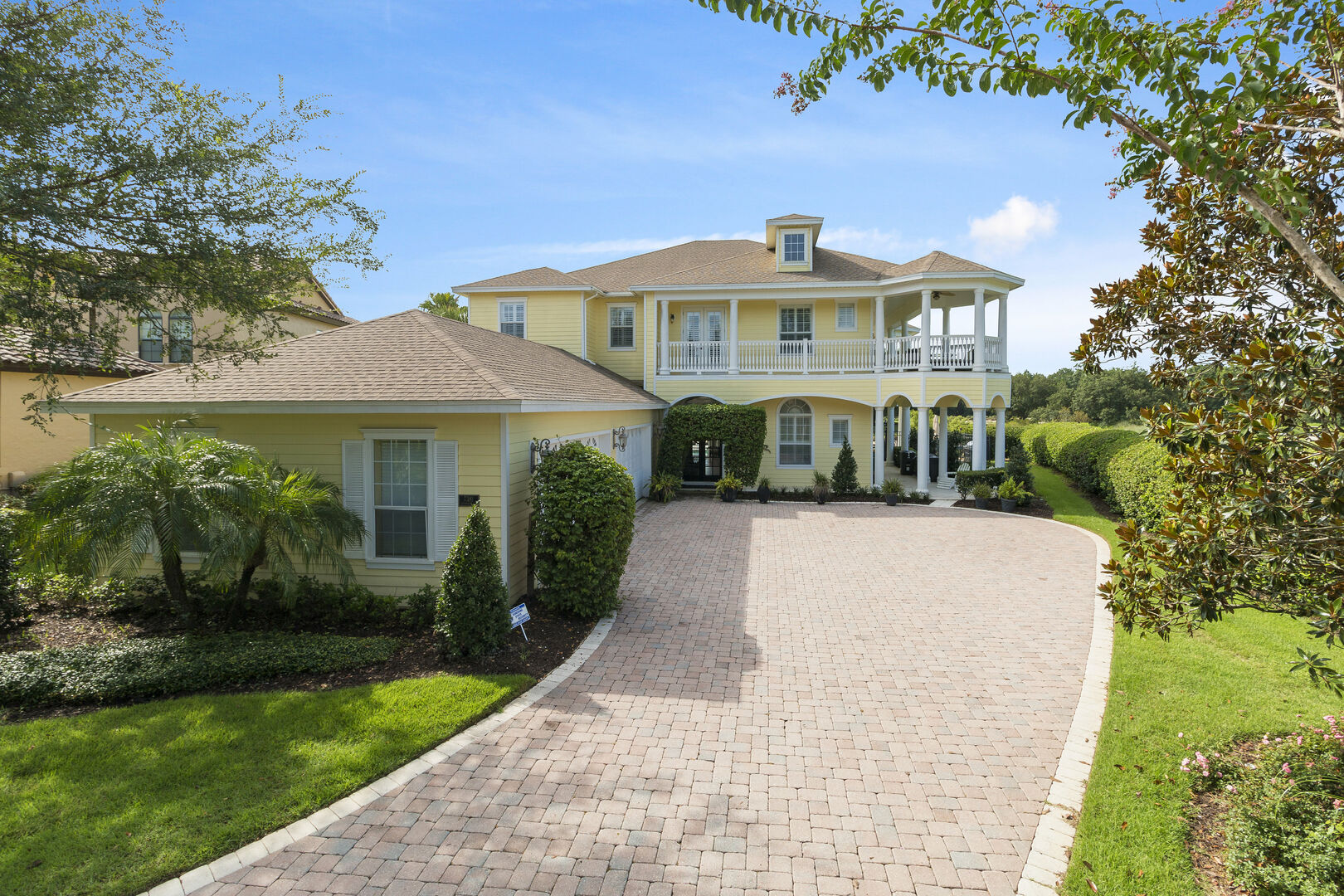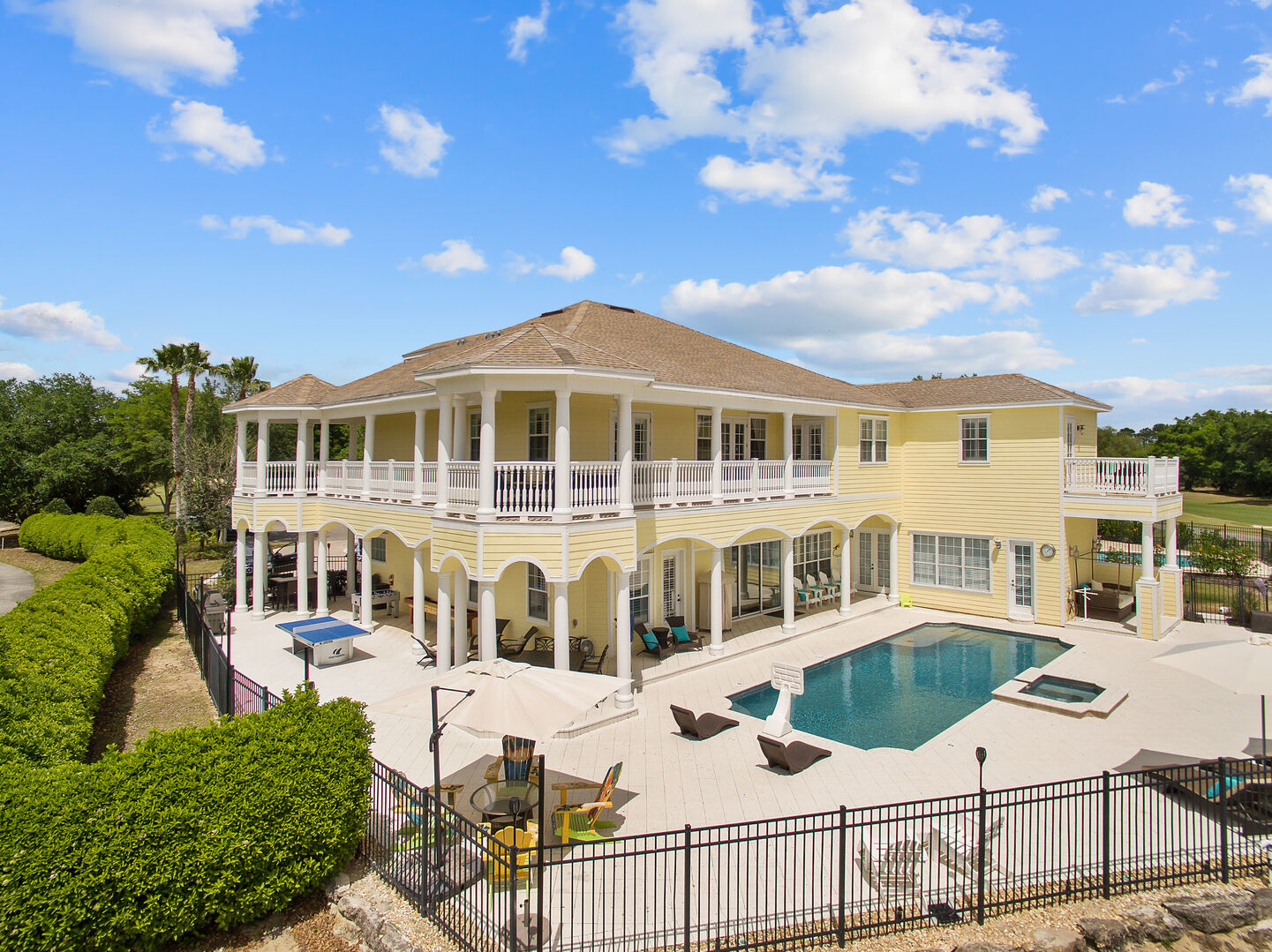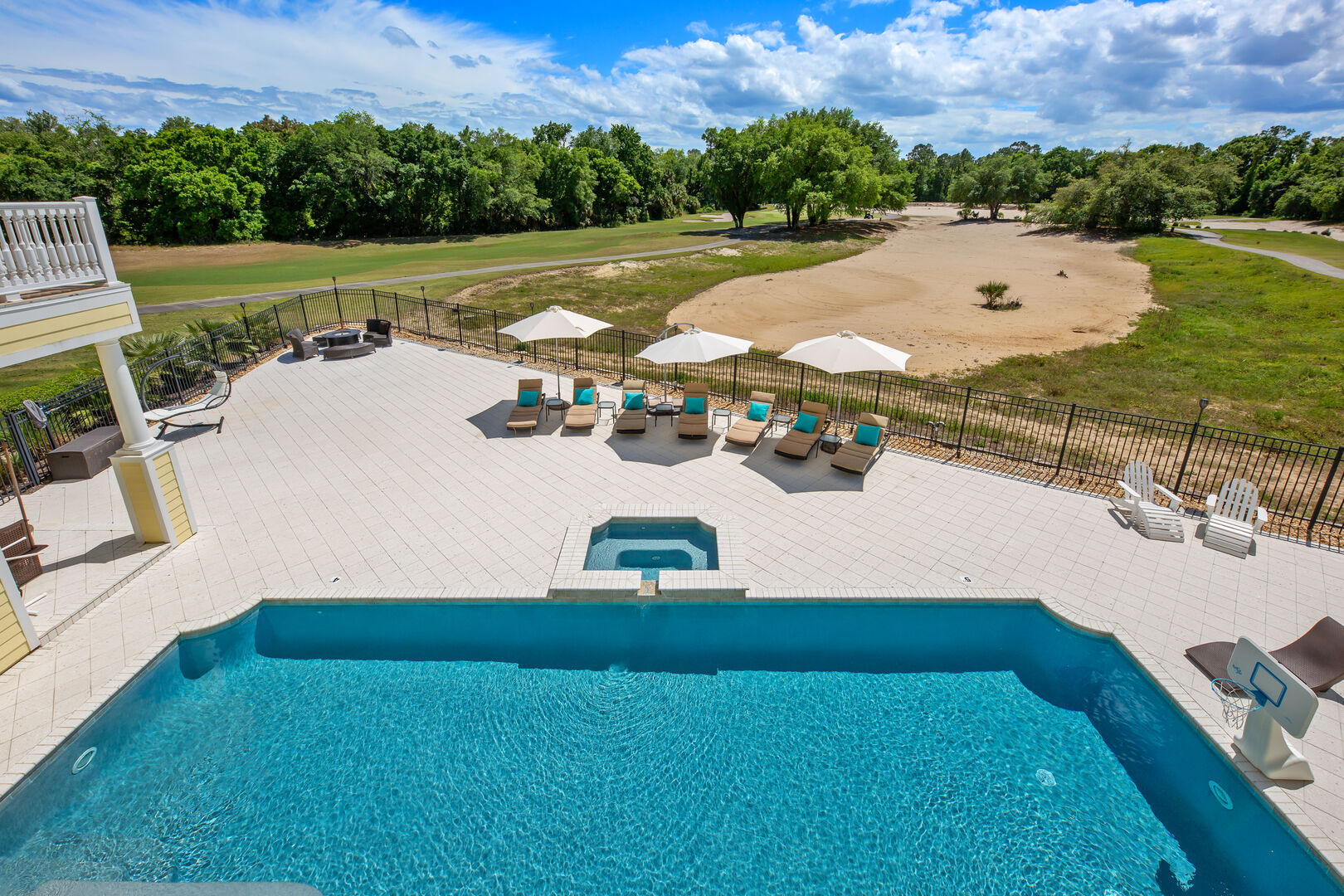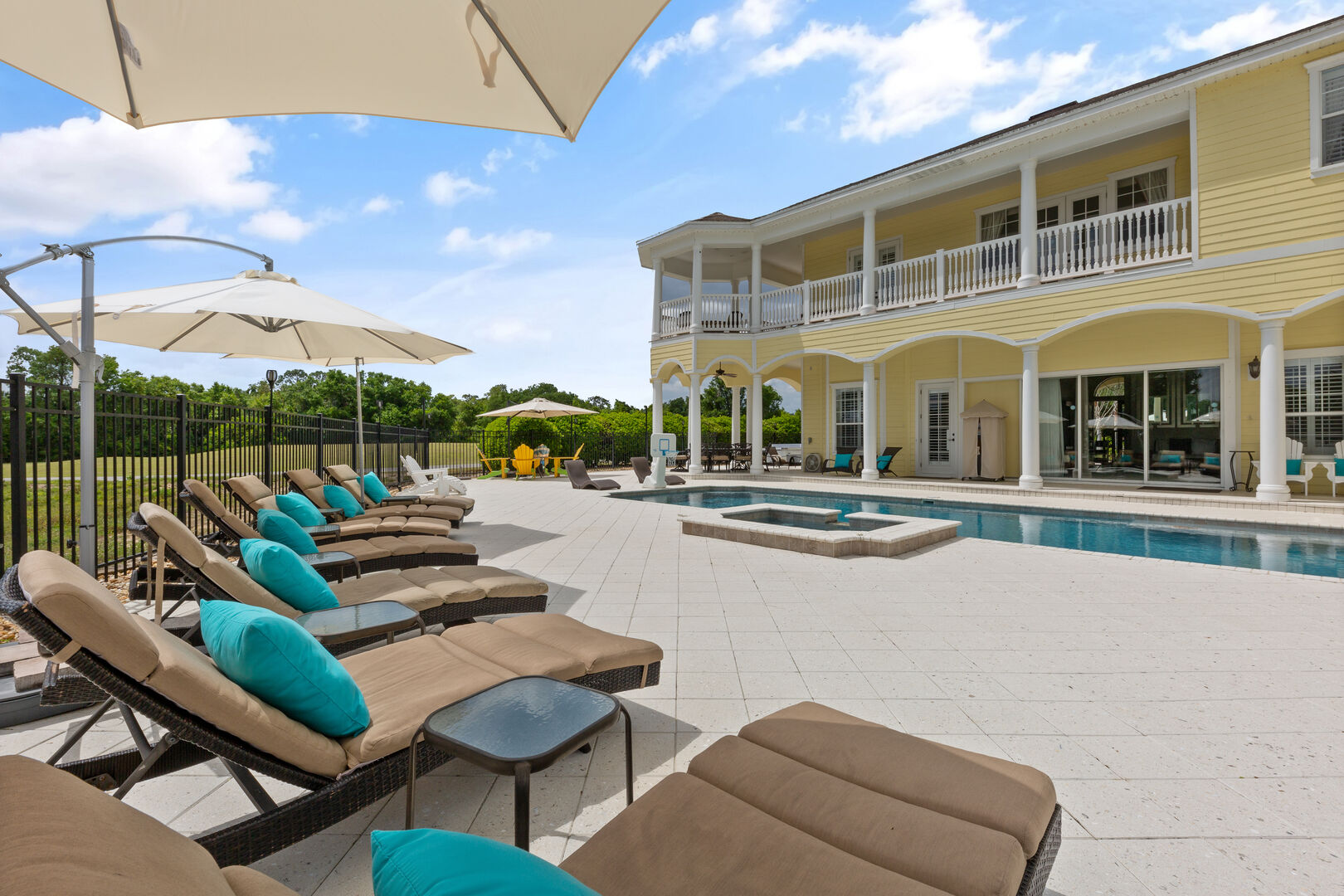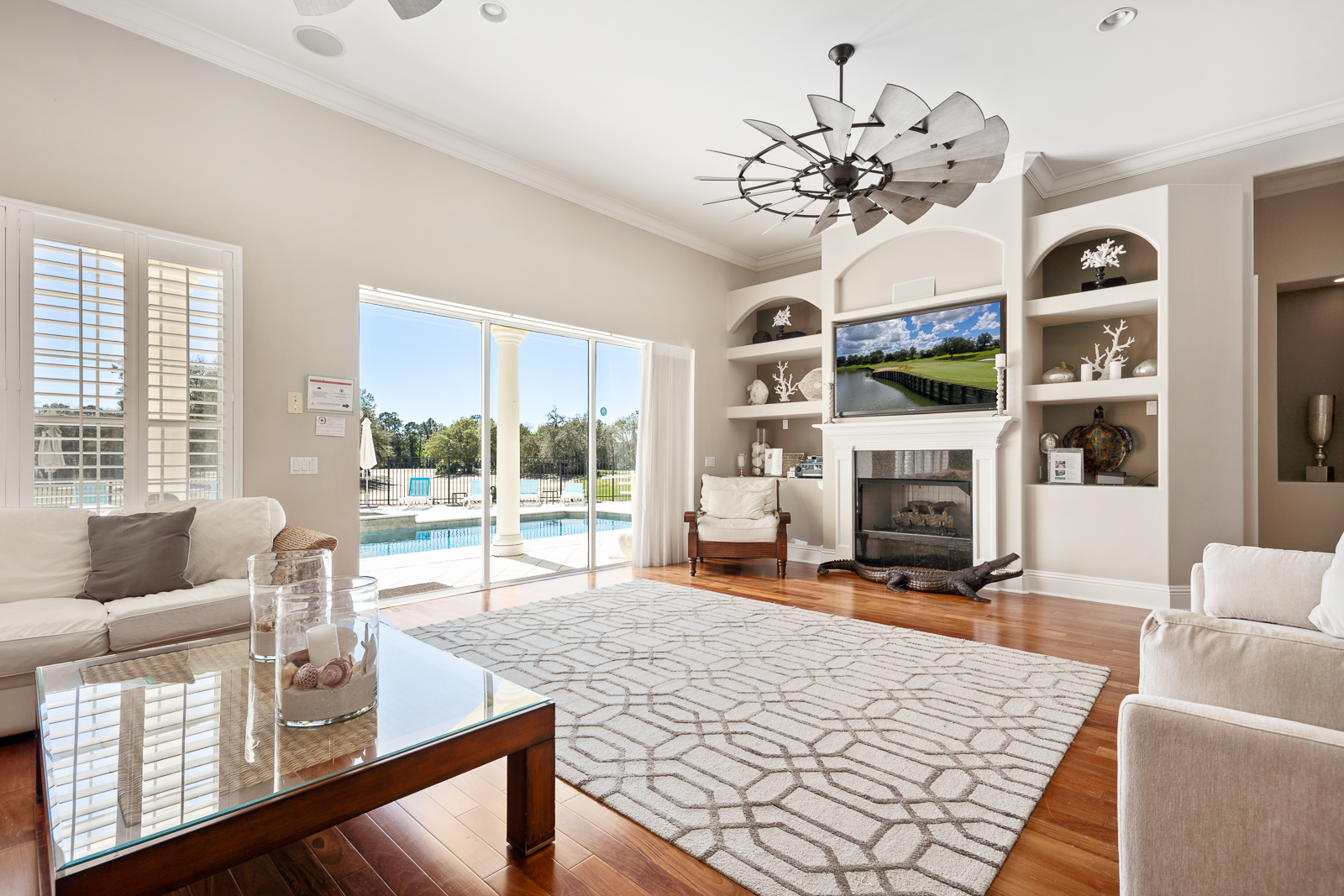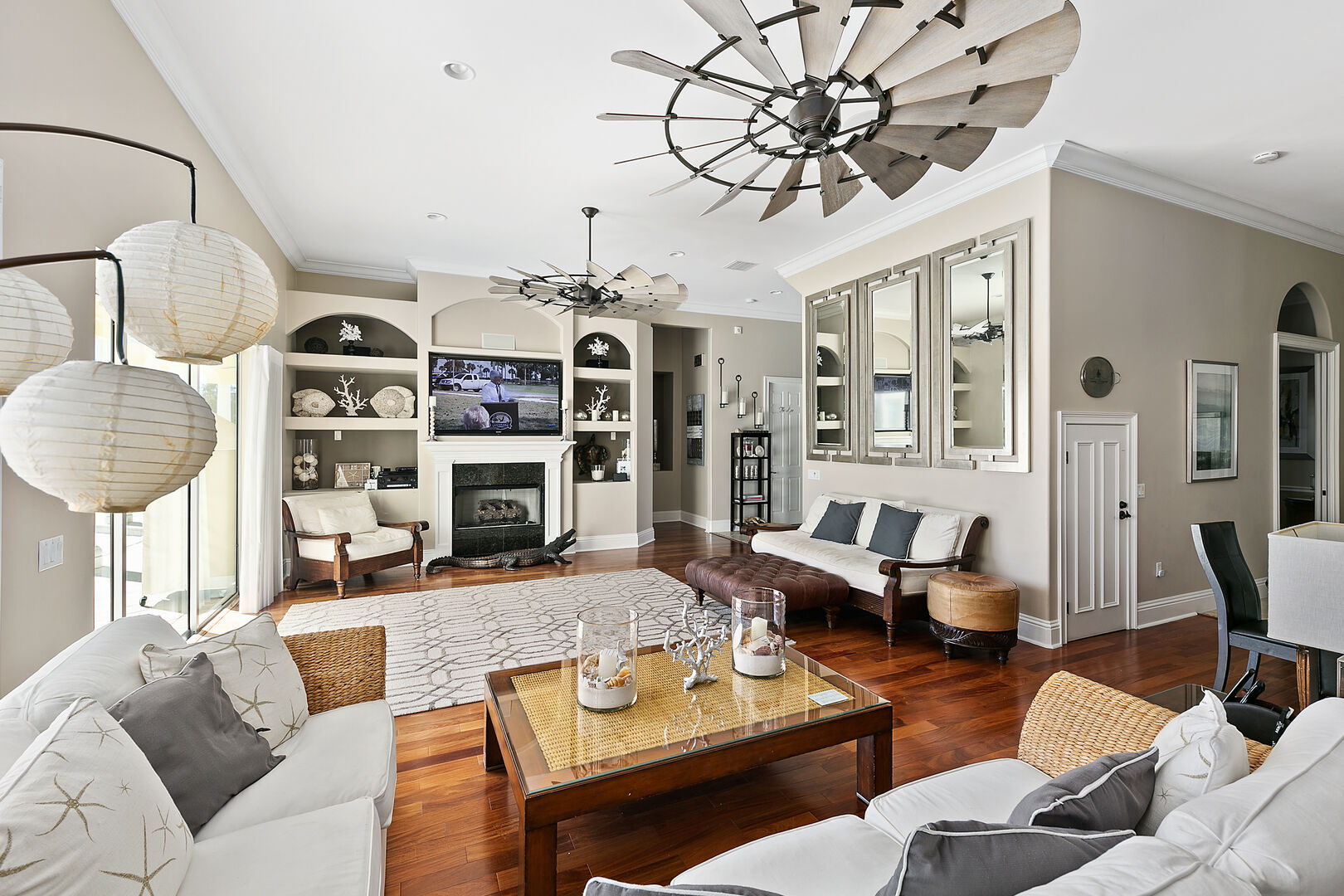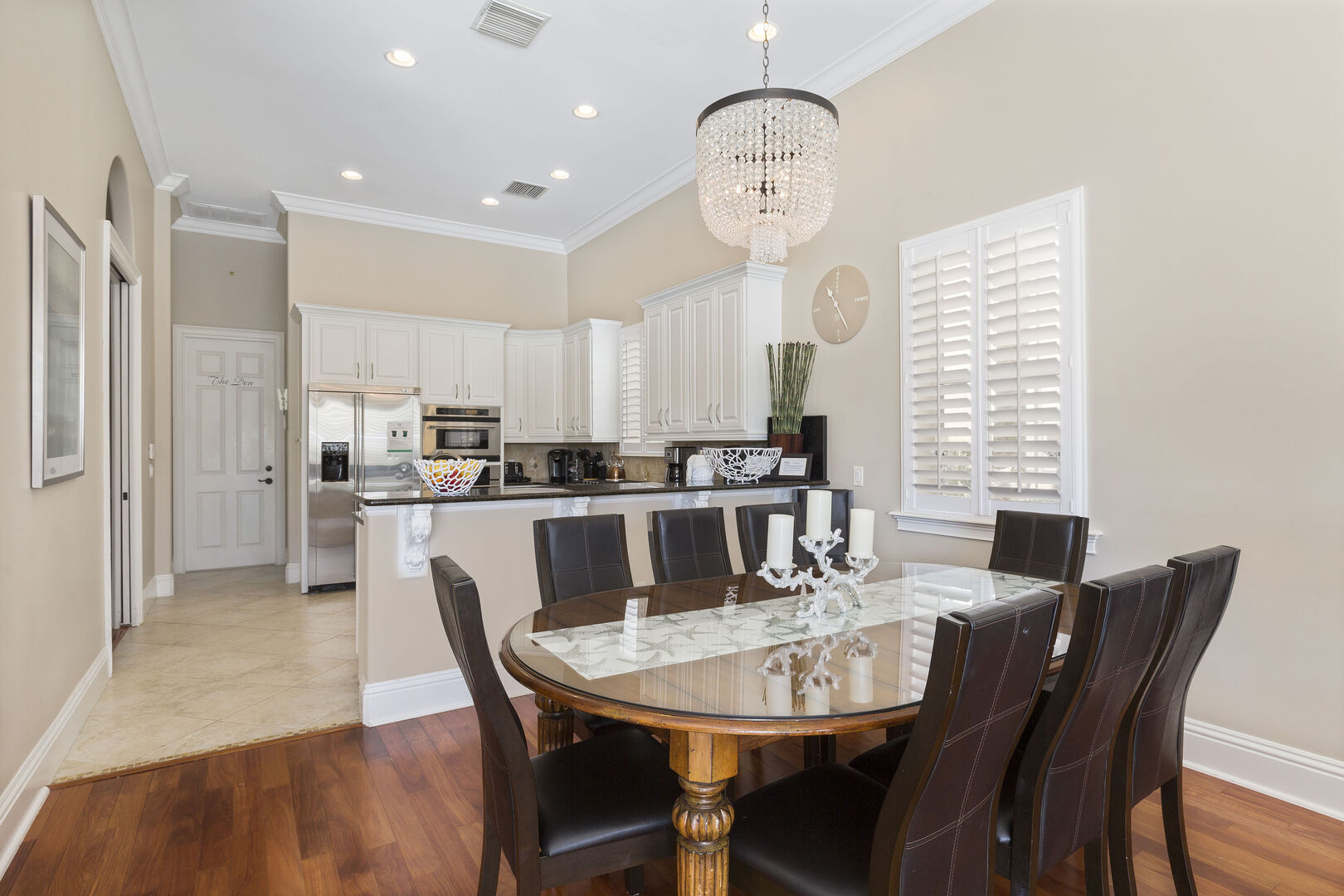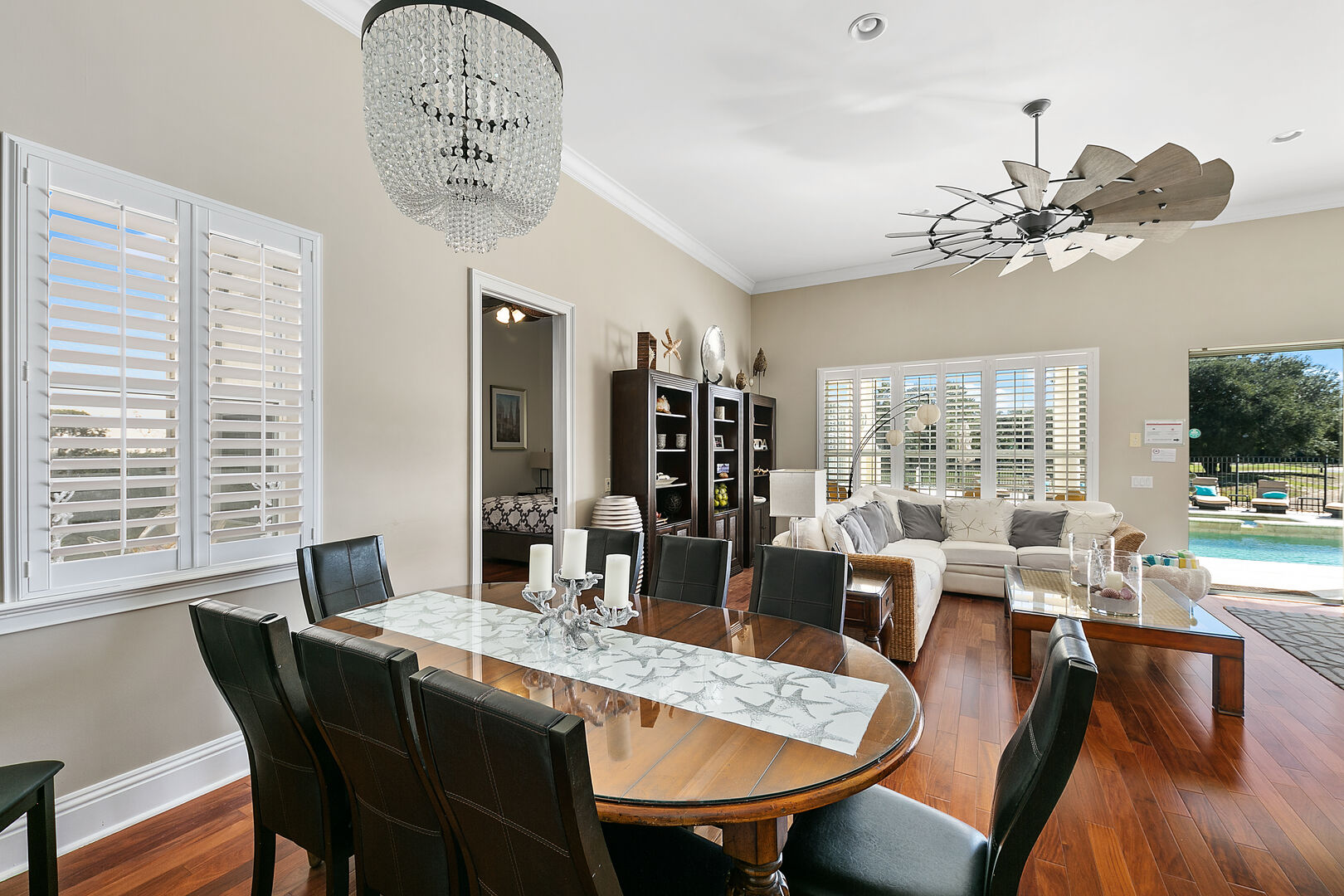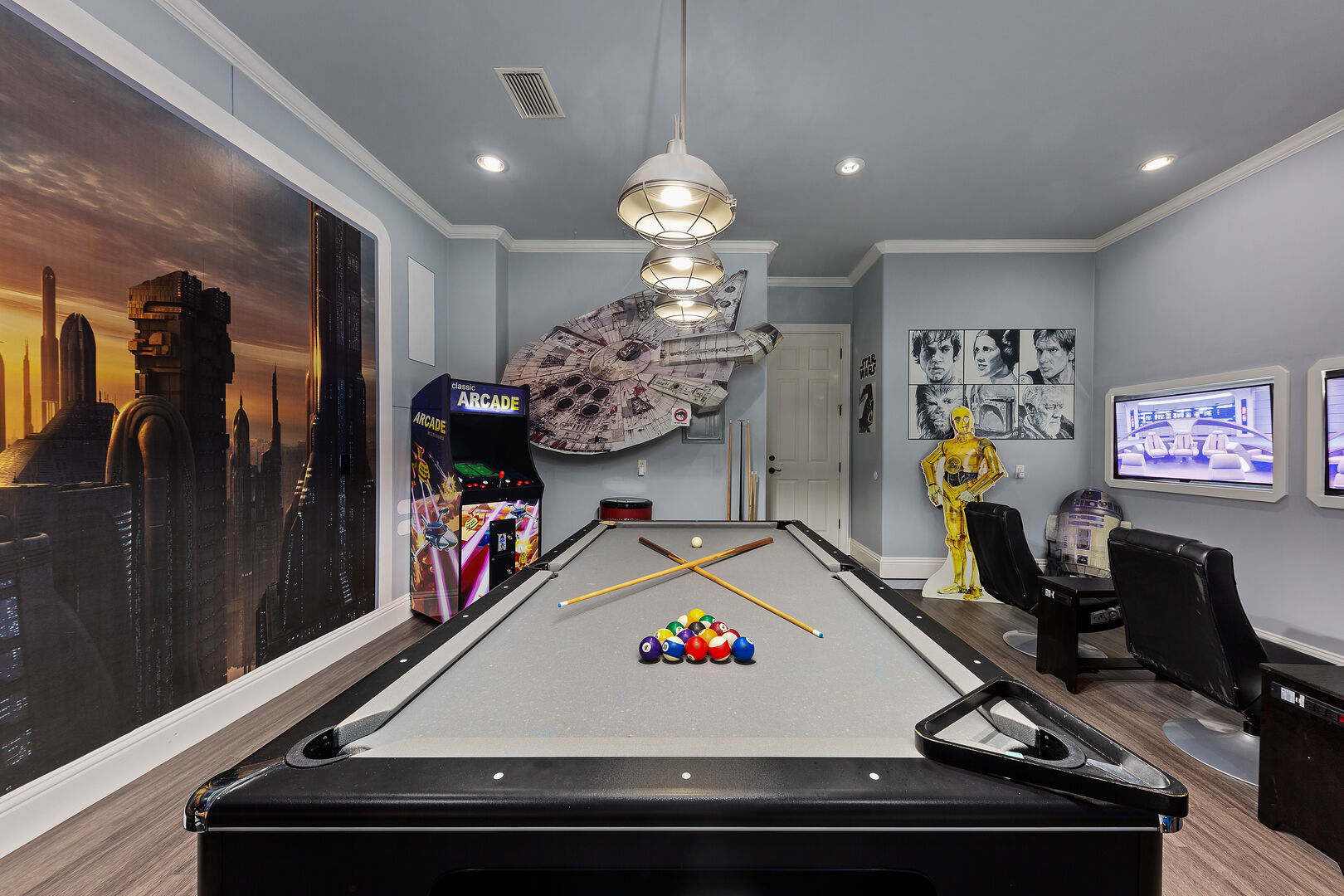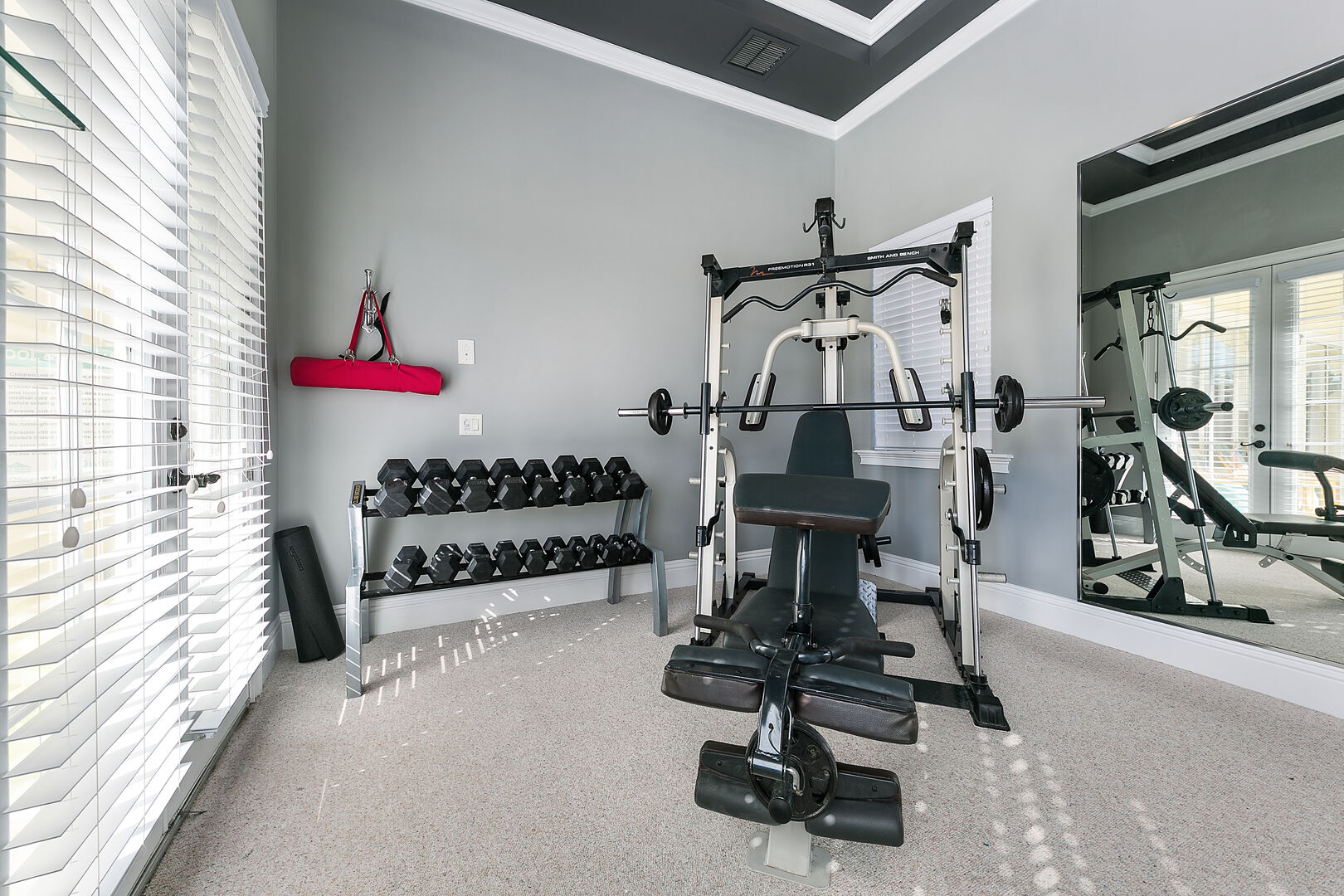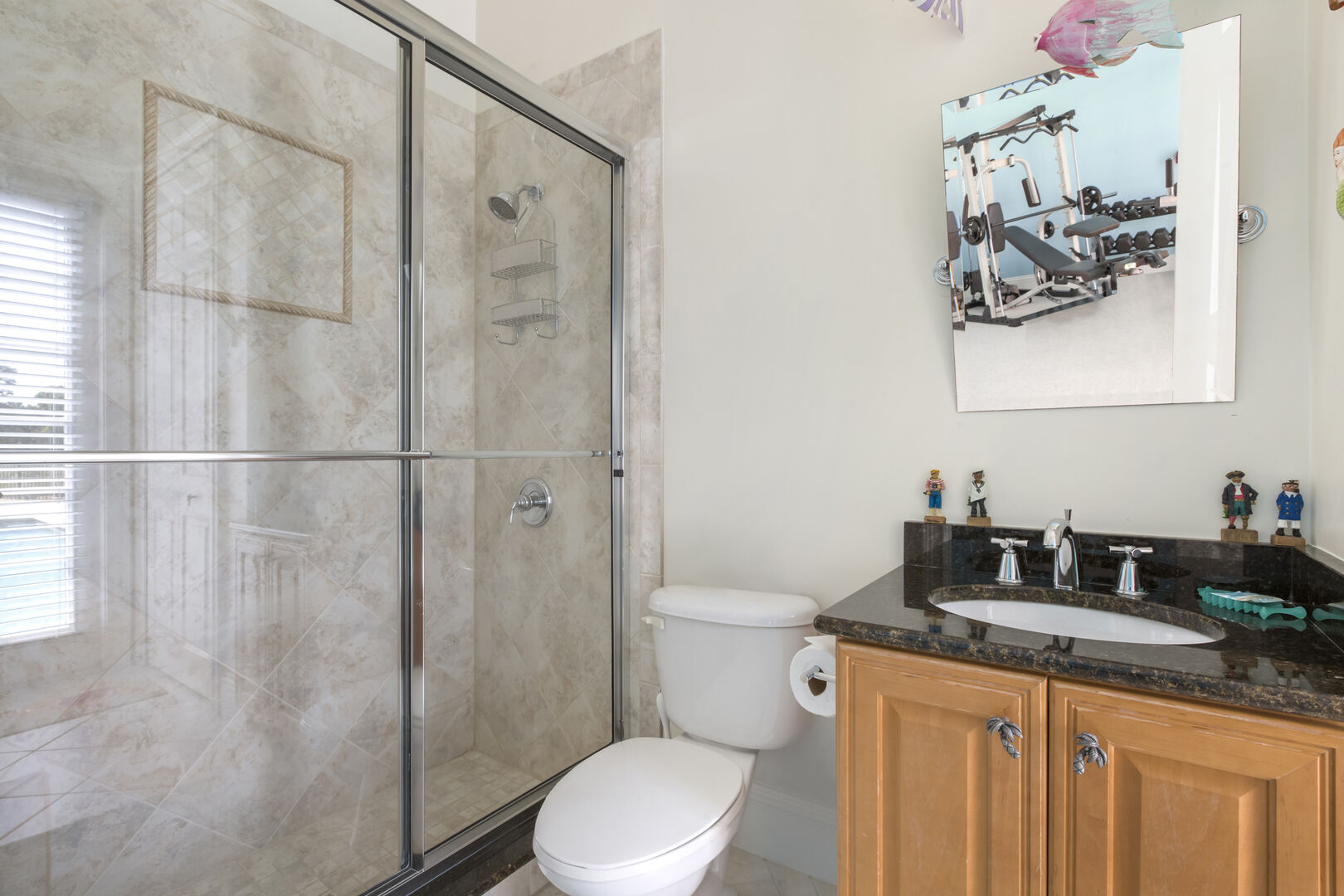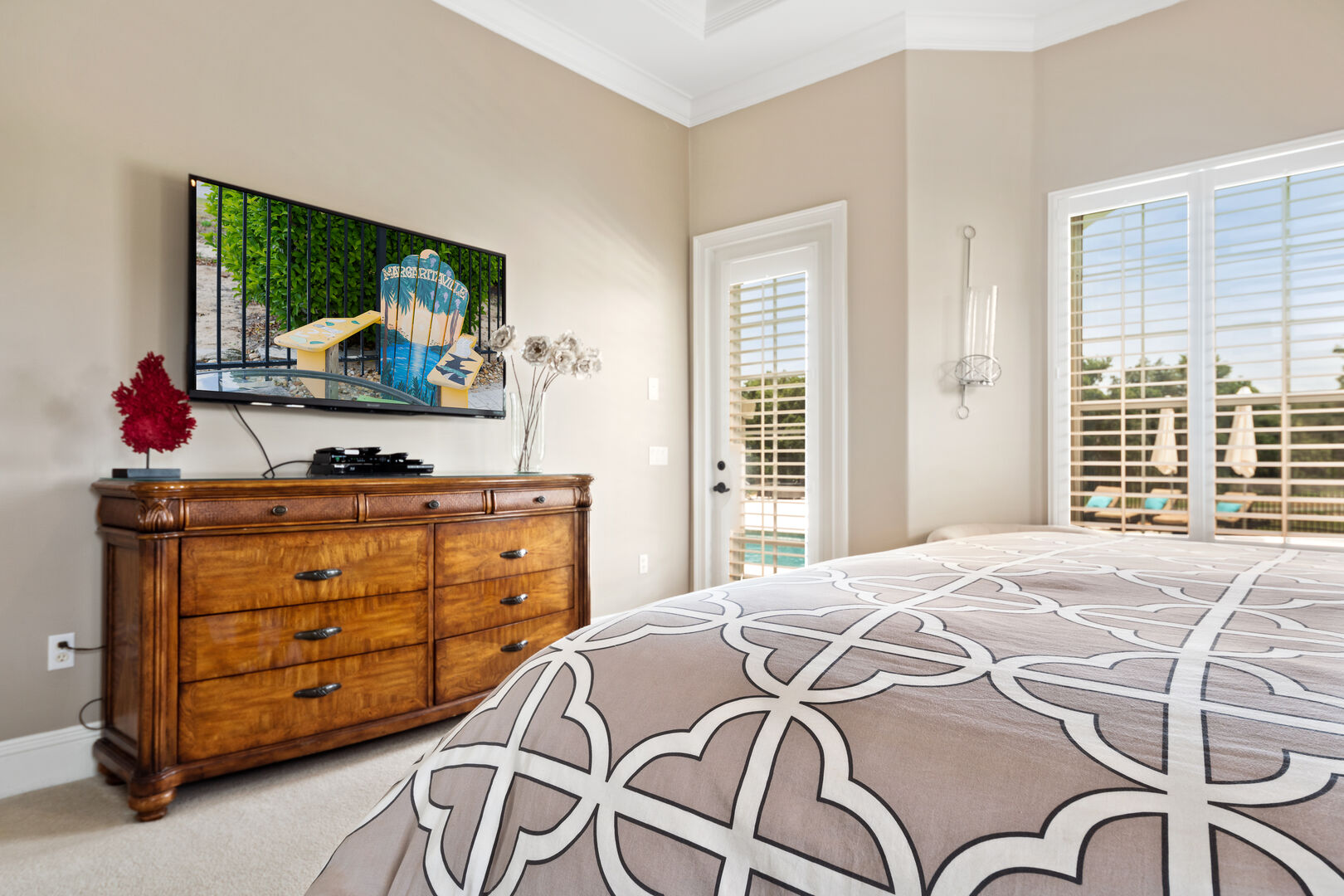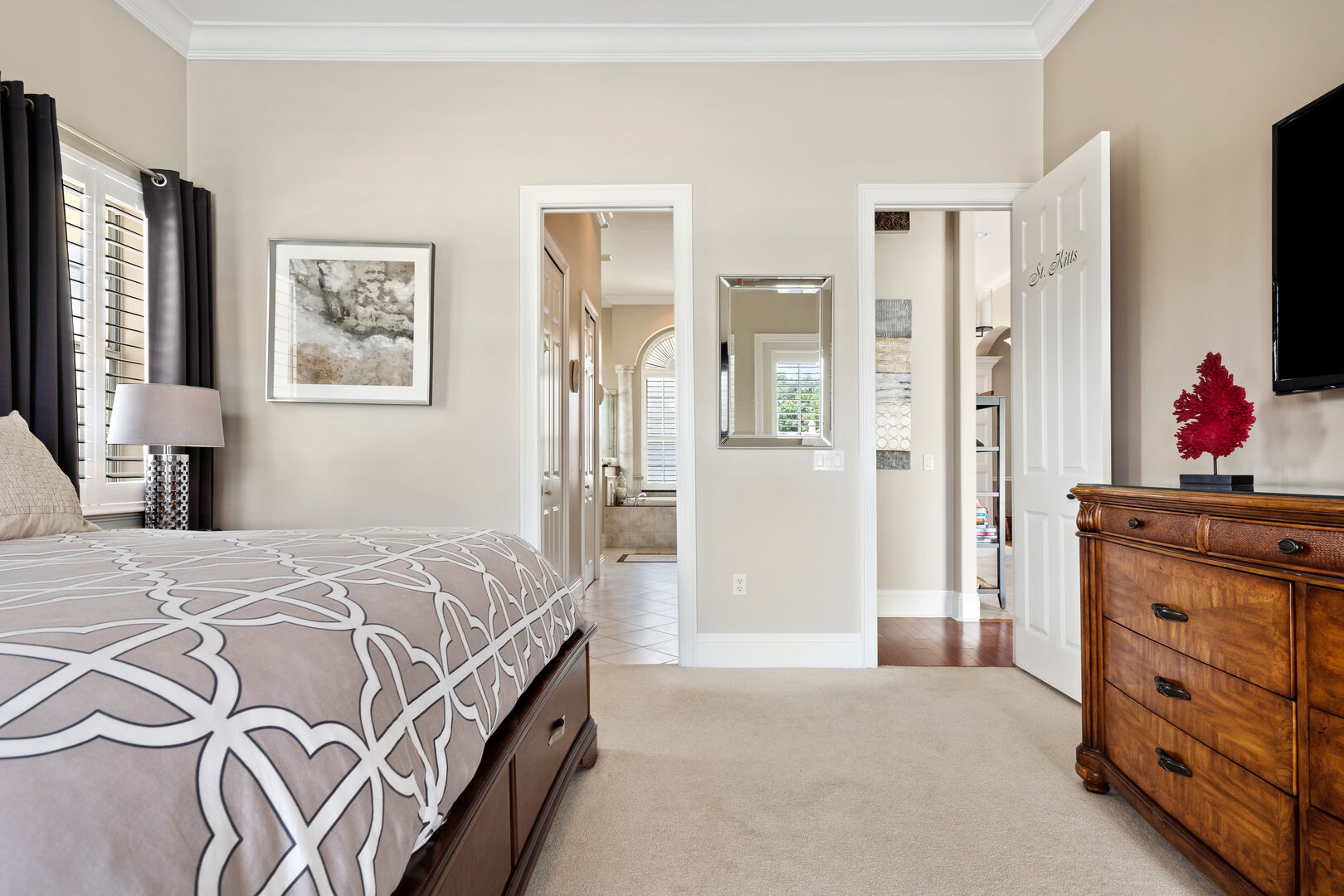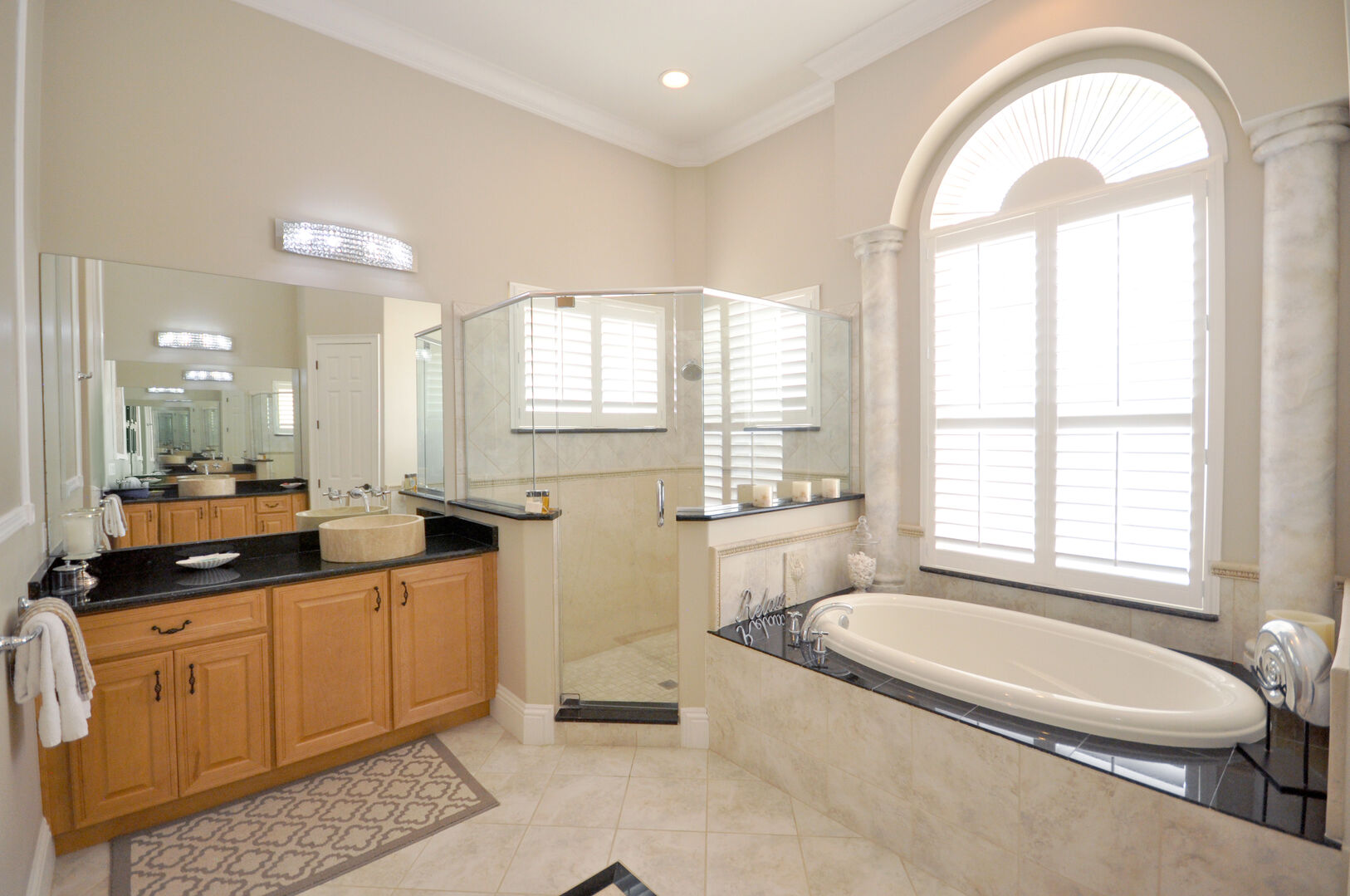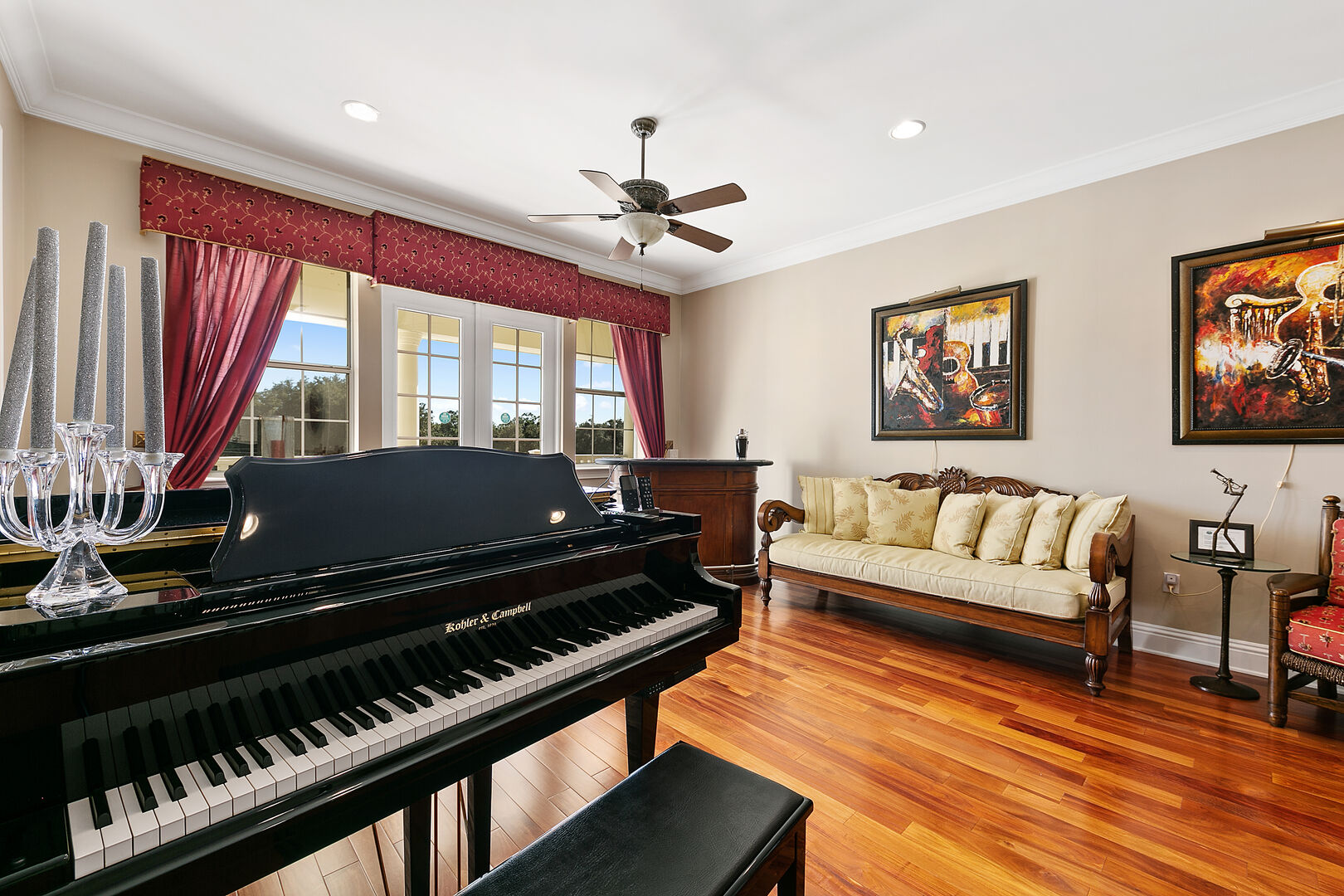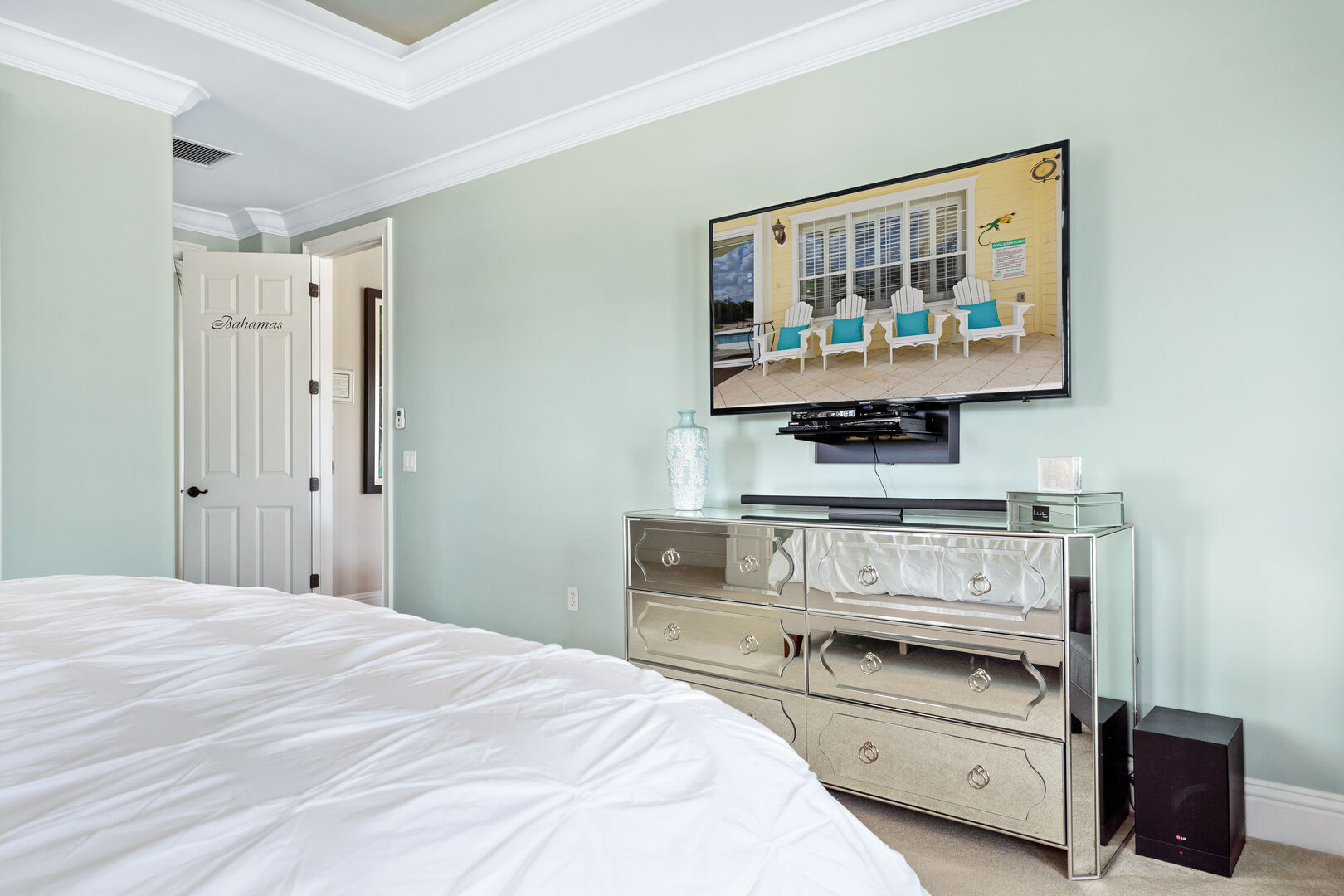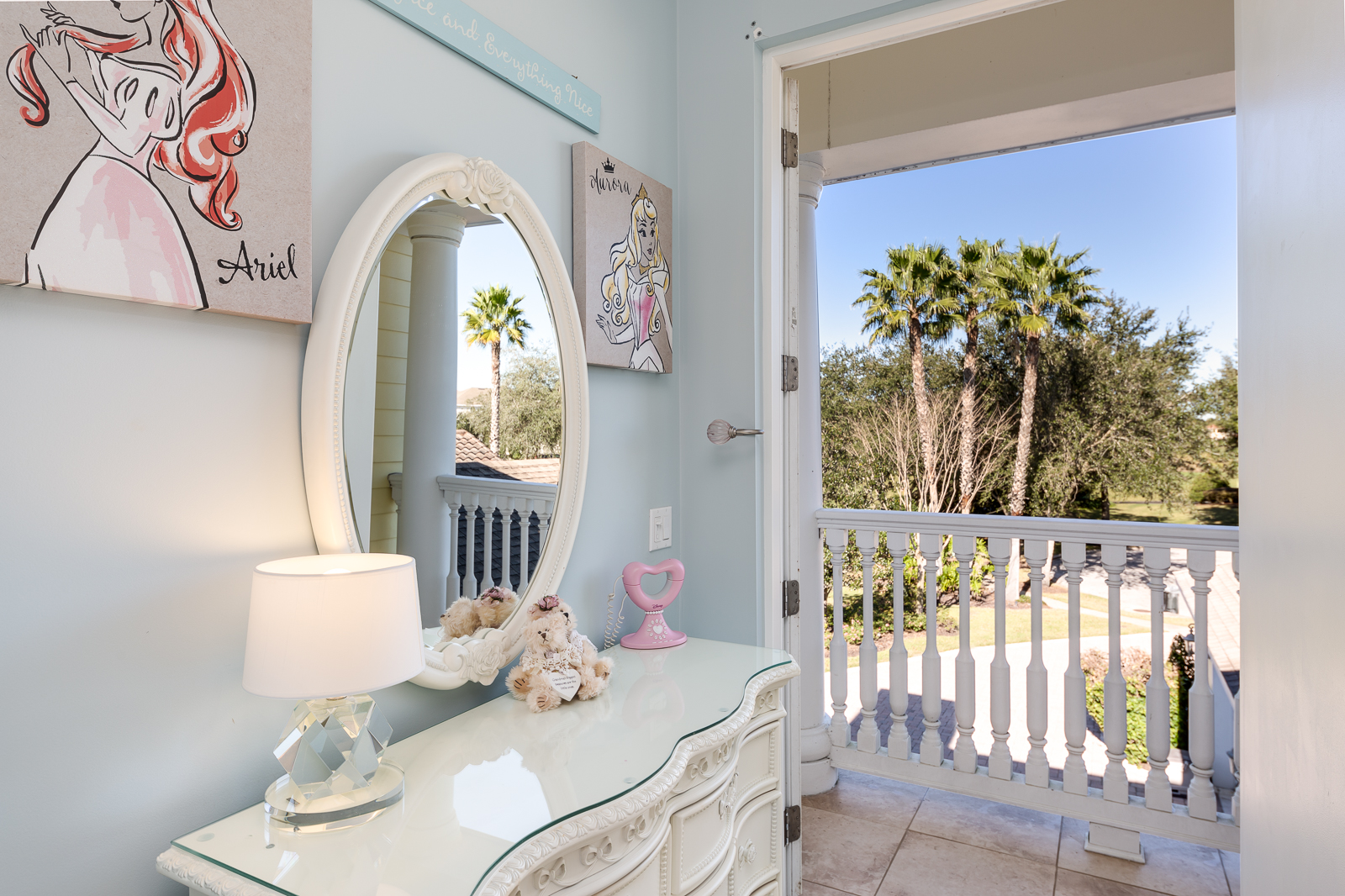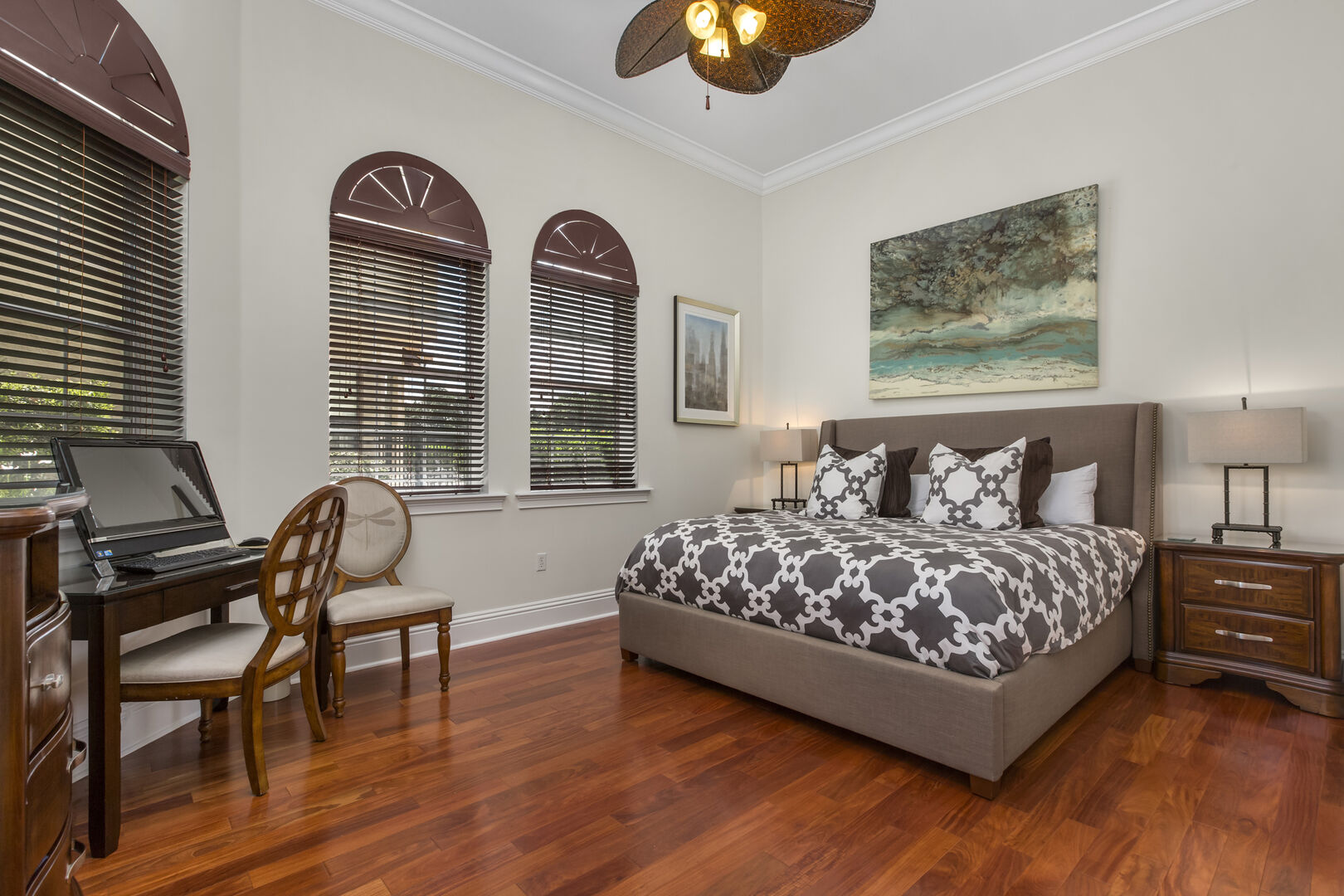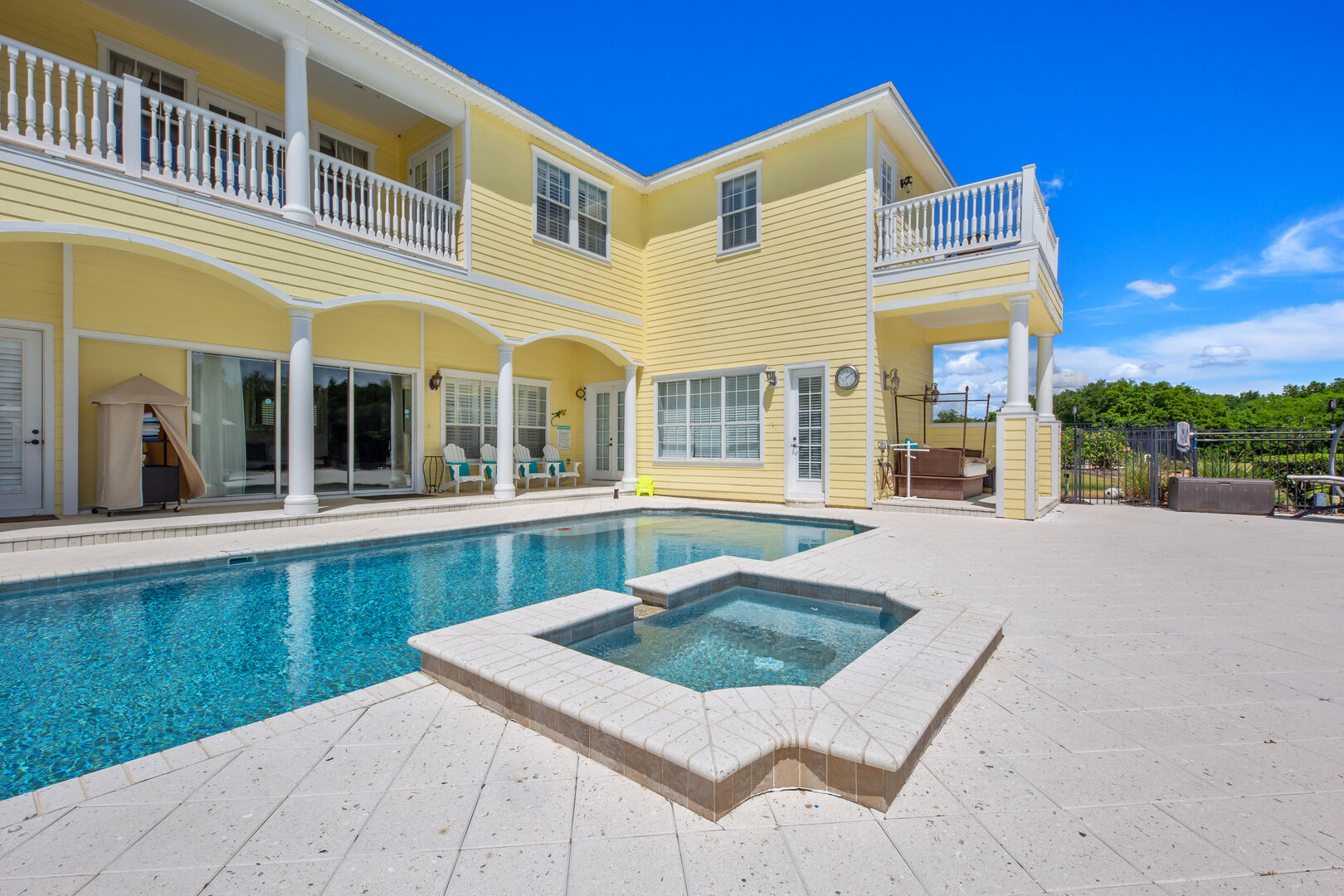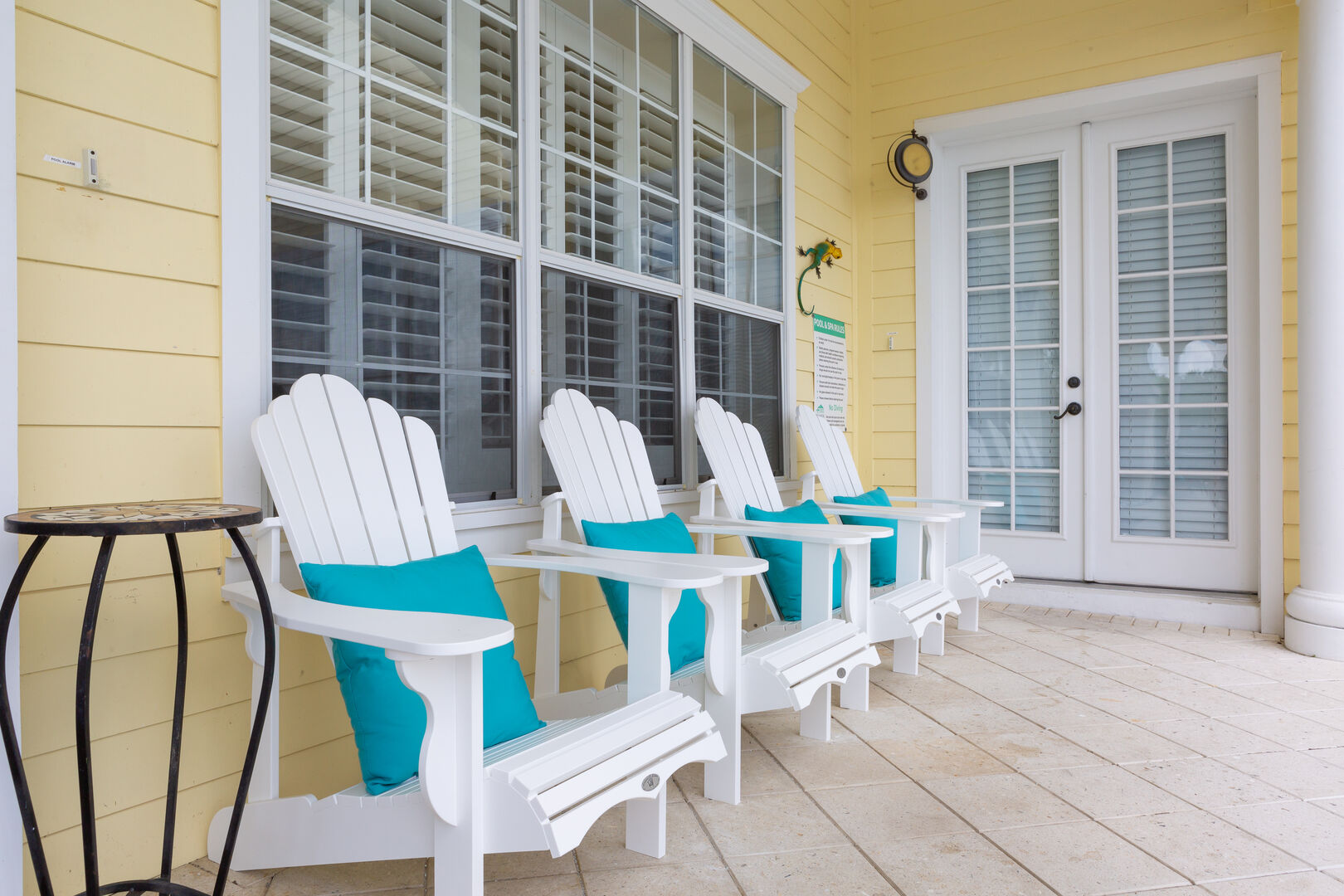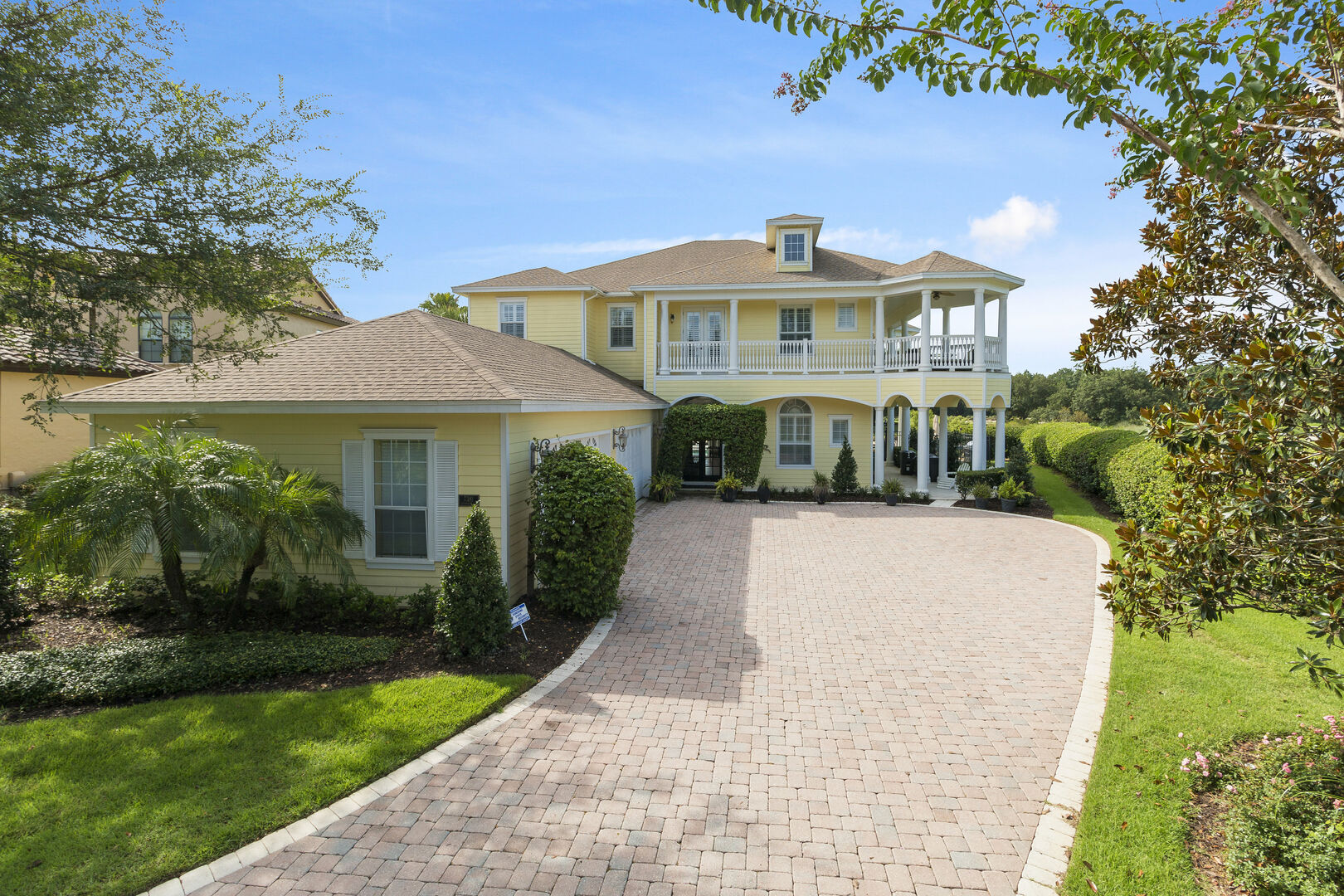 Description

This beautiful home features over 8,200 sq. ft. of luxury accommodation and balconies that offer private, quiet and not overlooked location. Soak up the Florida sun on the biggest rear deck in Reunion, over 4000 sq ft! with a south facing 40 ft. pool complete with spill-over hot tub. This private deck has everything you could possibly need with BOSE sound system, gas BBQ grill, 10 x sun loungers, 10 seat patio table, 6 seat bar and a 6 seat fire pit. Endless outdoor fun, Table Tennis, Foosball and Pool basketball. Located within the desirable Homestead community of Reunion this home is surrounded by beautiful, natural landscape and has the best panoramic views of Reunion and overlooks the 5th and 6th holes of the spectacular Tom Watson Independence course.

The fully equipped kitchen is ready for quick meals or elaborate dinner parties and offers granite counters, gas top stove and plenty of warm wood cabinets. There is a casual dining area with seating for 8, and a separate formal dining area with seating for six+ both have a beautiful wood and glass dining tables.

The extremely large living area is comfortable with seating for 10, showcases a state of the art entertainment system with a built in 70" Smart LED cable TV, enjoy PrismTV with over 330 channels including HBO, Showtime etc, plus Netflix, Hulu, Amazon Prime and YouTube etc. Plus Roku and AppleTV 4th Gen with media player. Also Blu-ray player. Home Theater Sound System and SONOS and Bluetooth connectivity

The 1st master bedroom is located on the ground floor and has a luxurious King size bed with pillow top mattress, large walk in wardrobe, wall-mounted 60"Smart LED cable TV, enjoy AppleTV including HBO, Showtime etc, plus Netflix, Hulu, Amazon Prime and YouTube etc. Plus media player. Also Blu-ray player. A huge luxury en suite bathroom with a Jacuzzi bath and separate walk-in shower area and his and hers double vanity unit. This spacious room has a door that leads out onto the private pool and deck area.

Upstairs a large loft living area awaits, complete with its own baby grand piano which actually plays itself! This area has a comfortable seating area for you to sit back and relax, French doors which open onto over 1,000 sq. ft. of private balconies with luxury patio furniture with two seating areas and fantastic views of the pool and golf course. Sit and watch the sunset over the Reunion Grande.

The 2nd master bedroom is located on the first floor and has a luxurious king size bed with pillow top mattress, huge walk in wardrobe and a 60" Smart LED Roku TV, enjoy PrismTV with over 150 channels including HBO, Showtime etc, plus Netflix, Hulu, Amazon Prime and YouTube etc. Plus a media player. Also Blu-ray player and Home Theater Sound System. The French doors open onto over 1,000 sq ft of private balconies with breath-taking views of the 5th and 6th holes of the spectacular Tom Watson Independence course. The over-sized, luxury en-suite bathroom has a Jacuzzi bath and separate walk-in shower area, his'n'hers double vanity unit, built in TV

The 3rd master bedroom on the first floor and has a luxurious king size bed with pillow top mattress, huge walk in closet and a 55" mart LED Roku TV, enjoy PrismTV with over 150 channels including HBO, Showtime etc, plus Netflix, Hulu, Amazon Prime and YouTube etc. Plus a media player. Also Blu-ray player. This room also has an enormous luxury en suite bathroom with a walk-in shower area, his'n'hers double vanity unit, built in TV. This en suite has its own private balcony and seating area with breath taking views of the 5th hole of the spectacular Tom Watson Independence course.

The 4th Bedroom on the first floor is large and spacious and has a built in closet. A Colonial style King bed with pillow top mattress and matching furniture including desk plus a 40" Smart LED Roku TV, enjoy PrismTV with over 150 channels including HBO, Showtime etc, plus Netflix, Hulu, Amazon Prime and YouTube etc. Plus a media player. The en-suite bathroom has a walk-in shower and vanity unit

Bedroom 5 has a beautiful Princess room, with custom Princess twin/twin bunk beds x 2 (4 twins) matching Princess furniture. Wall-mounted 43" Smart LED Roku TV, enjoy PrismTV with over 150 channels including HBO, Showtime etc, plus Netflix, Hulu, Amazon Prime and YouTube etc. Plus a media player. Girls toys, games.

Bedroom 6 is a Pirates themed room, ideal for boys or girls. This room has 1 Bunk bed with one single on top and one full bed underneath plus another twin bed in the shape of a boat with matching furniture plus a wall-mounted 32" LED Smart Roku TV, enjoy PrismTV with over 150 channels including HBO, Showtime etc, plus Netflix, Hulu, Amazon Prime and YouTube etc. Plus a media player. The en suite bathroom has a bath tub, shower & vanity unit.

Bedroom number 7 is located on the ground floor and has a luxurious King size bed with pillow top mattress, 40" Smart LED Roku TV, enjoy PrismTV with over 150 channels including HBO, Showtime etc, plus Netflix, Hulu, Amazon Prime and YouTube etc. Plus a media player. Plus desk and PC for your use. This bonus bedroom does not have an en-suite or closet.

Overlooking the pool you will find a private gymnasium which boasts a large selection of free weights, bench rack, Power tower with dip station and pull up bar. Wall mounted mirrors, TV with DVD player and IPod docking station. The en-suite bathroom has a walk-in shower, vanity unit and toilet.

The entertainment options are endless in this villa. Separately air-conditioned games room with a driving simulator arcade, 3 gaming consoles, and 4 x 50-Inch Roku SMART TV's with PrismTV with over 150 channels. Everyone can enjoy their own favorite game on the PS4 or Xbox which are adaptable to play on 1, 2, 3 or all 4 TV's together. This set-up also allows you to watch multiple sporting games, TV's shows at once or flexibility for 1 person to play a PS4, one to play the Xbox 1 and another to use the GT racer arcade!. There is also a Slate pool table.

NEW Huge air-conditioned 500 Sq Ft Private home cinema with 200" screen, High-definition, 1080p theater experience complete with ground shaking surround sound. 13 individual Luxury reclining Theater Seats. Enjoy PrismTV with over 330 channels including HBO, Showtime etc, plus Netflix, Hulu, Amazon Prime and YouTube etc. Plus AppleTV 4th Gen with media player. Also Blu-ray player.

Free secure upgraded 40 Mbps high speed wireless internet and telephone calls (local and long distance USA)
Bedroom/Bed Sizes
• Master Suite #1 - King (Second Floor)
• Master Suite #2- King (Second Floor)
• Master Suite #3 - King (Second Floor)
• Master Suite #4 - King (Ground Floor)
• Bedroom #5 - Bunks Twin/Full/Twin (Second Floor)
•Bedroom #6 - Twin/Twin - Twin/Twin Bunk Beds (Second Floor)
• Bedroom #7 - King (Ground Floor)

General
• 8,200 sq. ft of luxury accommodation & balconies
• Loft area with baby grand piano that plays itself
• Overlooks 5th and 6th holes of the Tom Watson course
• Fully equipped kitchen and formal dinning area
• Fully equipped gym overlooking pool area
• SMART TV and DVD player in each bedroom
• Air conditioning and indoor ceiling fans
• Smoke-free and pet-free for your comfort
• Towels and linens are provided

Living Area
• 70" LED Smart Prism TV
• Over 330 channels. Plus Apple TV
• BluRay Player
• Sonos connect sound system
• Gas fireplace

Private Home Cinema
• Huge Private home cinema with 200" screen
• High-definition, 1080p theater experience
• Surround sound theater experience
• Luxury theater seating for 12
• Media player

Pool Area
• Sunny south facing position
• Large deck area with outdoor bar
• 40 ft pool and spill over spa
• Premium outside surround sound
• 10 sun loungers
• Fire pit -High Top Bar - Gas BBQ grill
• Built in pool alarm
•Table Tennis, Foosball and Pool basketball.

Private Gym
• Large selection of free weights
• Bench rack
• Power tower with dip station and pull up bar

Games Room
• Redline GT Full Racing Simulator
• Xbox One with 4 controllers & games
• PS4 with 4 controllers & games
• 4 Gaming chairs with built-in speakers
• Slate pool table
• Air-conditioned
• Media player
• Home theater sound system

Children's Equipment
• Top and bottom stair gates fitted
• Pack 'n' play & baby monitor
• High chair
• Selection of children`s toys and books
• Child safety pool alarm

Laundry Room
• Full size washer and dryer
• Ironing board & iron
Rental Policies
• Check in: 4:00 PM / check out: 10:00 AM
• Early or late check in/out: 1/2 nightly rate
• No smoking / No pets
• By state law occupancy of property must not be exceeded
• 20% non-refundable deposit due at time of booking
• Final payment due 30 days prior to your arrival
• 13.5% sales and tourist tax (not included in nightly rate)
• One-time departure cleaning fee required for all stays
• Pool heat available for an additional cost. If you would like the spa / hot tub to be heated you will need to add pool heat to your reservation
• Daily housekeeping services are available upon request
• The complimentary BBQ grill and Fire Pit are provided free of charge. Magical Vacation Homes and/or the Owner do not accept liability for equipment failure. It is the guest's responsibility to clean and maintain the barbecue and replenish Propane for the BBQ and Fire Pit as required
---
Welcome to Reunion Resort
Reunion Resort is the top destination for luxury vacation home rentals six miles from Walt Disney World® Resort. Explore this beautiful resort with miles of walking trails, perfect for a morning run or evening stroll with your family to take in the fresh air and the local wildlife. Enjoy the Florida weather at one of the community pools or dine at some of the best restaurants in the area. Have the Orlando vacation of your dreams with your own private rental, access to great resort amenities and ideal location.
Enjoy Unlimited Access to These Amenities & More in Reunion Resort
3 Signature Golf Courses
Water Park
6 Tennis Courts
Resort & Disney Shuttle
10 Community Pools
Splash Pad
On-site Restaurants & Bars
Boutique Spa & Salon
Fitness Center
Resort WiFi Internet
With membership access to Reunion Resort, you can enjoy all these amazing resort amenities listed below:
Water Park access*
Shuttle to Disney*
Shuttle Service throughout the resort
Access to three signature Golf Courses
Boutique Spa and Salon*
Tennis Centre*
Access to 11 pools throughout the Resort
On-site restaurants and bars
Pickleball**, FootGolf**, Bocce Ball
Bicycles for 1 hr use at the resort per day
Golf Short Game Practice Area
Evening Glow Golf Event Entry on nights offered
Access to Seven Eagles Fitness Center
Eleven – Roof Top Bar/Restaurant After Hours Cover Entry
Resort WiFi internet access
Children's Activity Program
All Activities are based on availability
*Additional fees apply
**Fees will apply for rental rackets and balls. FootGolf is available after 3:00 pm on select days.
Availability
Checkin Available

Checkout Available

Not Available

This beautiful home features over 8,200 sq. ft. of luxury accommodation and balconies that offer private, quiet and not overlooked location. Soak up the Florida sun on the biggest rear deck in Reunion, over 4000 sq ft! with a south facing 40 ft. pool complete with spill-over hot tub. This private deck has everything you could possibly need with BOSE sound system, gas BBQ grill, 10 x sun loungers, 10 seat patio table, 6 seat bar and a 6 seat fire pit. Endless outdoor fun, Table Tennis, Foosball and Pool basketball. Located within the desirable Homestead community of Reunion this home is surrounded by beautiful, natural landscape and has the best panoramic views of Reunion and overlooks the 5th and 6th holes of the spectacular Tom Watson Independence course.

The fully equipped kitchen is ready for quick meals or elaborate dinner parties and offers granite counters, gas top stove and plenty of warm wood cabinets. There is a casual dining area with seating for 8, and a separate formal dining area with seating for six+ both have a beautiful wood and glass dining tables.

The extremely large living area is comfortable with seating for 10, showcases a state of the art entertainment system with a built in 70" Smart LED cable TV, enjoy PrismTV with over 330 channels including HBO, Showtime etc, plus Netflix, Hulu, Amazon Prime and YouTube etc. Plus Roku and AppleTV 4th Gen with media player. Also Blu-ray player. Home Theater Sound System and SONOS and Bluetooth connectivity

The 1st master bedroom is located on the ground floor and has a luxurious King size bed with pillow top mattress, large walk in wardrobe, wall-mounted 60"Smart LED cable TV, enjoy AppleTV including HBO, Showtime etc, plus Netflix, Hulu, Amazon Prime and YouTube etc. Plus media player. Also Blu-ray player. A huge luxury en suite bathroom with a Jacuzzi bath and separate walk-in shower area and his and hers double vanity unit. This spacious room has a door that leads out onto the private pool and deck area.

Upstairs a large loft living area awaits, complete with its own baby grand piano which actually plays itself! This area has a comfortable seating area for you to sit back and relax, French doors which open onto over 1,000 sq. ft. of private balconies with luxury patio furniture with two seating areas and fantastic views of the pool and golf course. Sit and watch the sunset over the Reunion Grande.

The 2nd master bedroom is located on the first floor and has a luxurious king size bed with pillow top mattress, huge walk in wardrobe and a 60" Smart LED Roku TV, enjoy PrismTV with over 150 channels including HBO, Showtime etc, plus Netflix, Hulu, Amazon Prime and YouTube etc. Plus a media player. Also Blu-ray player and Home Theater Sound System. The French doors open onto over 1,000 sq ft of private balconies with breath-taking views of the 5th and 6th holes of the spectacular Tom Watson Independence course. The over-sized, luxury en-suite bathroom has a Jacuzzi bath and separate walk-in shower area, his'n'hers double vanity unit, built in TV

The 3rd master bedroom on the first floor and has a luxurious king size bed with pillow top mattress, huge walk in closet and a 55" mart LED Roku TV, enjoy PrismTV with over 150 channels including HBO, Showtime etc, plus Netflix, Hulu, Amazon Prime and YouTube etc. Plus a media player. Also Blu-ray player. This room also has an enormous luxury en suite bathroom with a walk-in shower area, his'n'hers double vanity unit, built in TV. This en suite has its own private balcony and seating area with breath taking views of the 5th hole of the spectacular Tom Watson Independence course.

The 4th Bedroom on the first floor is large and spacious and has a built in closet. A Colonial style King bed with pillow top mattress and matching furniture including desk plus a 40" Smart LED Roku TV, enjoy PrismTV with over 150 channels including HBO, Showtime etc, plus Netflix, Hulu, Amazon Prime and YouTube etc. Plus a media player. The en-suite bathroom has a walk-in shower and vanity unit

Bedroom 5 has a beautiful Princess room, with custom Princess twin/twin bunk beds x 2 (4 twins) matching Princess furniture. Wall-mounted 43" Smart LED Roku TV, enjoy PrismTV with over 150 channels including HBO, Showtime etc, plus Netflix, Hulu, Amazon Prime and YouTube etc. Plus a media player. Girls toys, games.

Bedroom 6 is a Pirates themed room, ideal for boys or girls. This room has 1 Bunk bed with one single on top and one full bed underneath plus another twin bed in the shape of a boat with matching furniture plus a wall-mounted 32" LED Smart Roku TV, enjoy PrismTV with over 150 channels including HBO, Showtime etc, plus Netflix, Hulu, Amazon Prime and YouTube etc. Plus a media player. The en suite bathroom has a bath tub, shower & vanity unit.

Bedroom number 7 is located on the ground floor and has a luxurious King size bed with pillow top mattress, 40" Smart LED Roku TV, enjoy PrismTV with over 150 channels including HBO, Showtime etc, plus Netflix, Hulu, Amazon Prime and YouTube etc. Plus a media player. Plus desk and PC for your use. This bonus bedroom does not have an en-suite or closet.

Overlooking the pool you will find a private gymnasium which boasts a large selection of free weights, bench rack, Power tower with dip station and pull up bar. Wall mounted mirrors, TV with DVD player and IPod docking station. The en-suite bathroom has a walk-in shower, vanity unit and toilet.

The entertainment options are endless in this villa. Separately air-conditioned games room with a driving simulator arcade, 3 gaming consoles, and 4 x 50-Inch Roku SMART TV's with PrismTV with over 150 channels. Everyone can enjoy their own favorite game on the PS4 or Xbox which are adaptable to play on 1, 2, 3 or all 4 TV's together. This set-up also allows you to watch multiple sporting games, TV's shows at once or flexibility for 1 person to play a PS4, one to play the Xbox 1 and another to use the GT racer arcade!. There is also a Slate pool table.

NEW Huge air-conditioned 500 Sq Ft Private home cinema with 200" screen, High-definition, 1080p theater experience complete with ground shaking surround sound. 13 individual Luxury reclining Theater Seats. Enjoy PrismTV with over 330 channels including HBO, Showtime etc, plus Netflix, Hulu, Amazon Prime and YouTube etc. Plus AppleTV 4th Gen with media player. Also Blu-ray player.

Free secure upgraded 40 Mbps high speed wireless internet and telephone calls (local and long distance USA)
Bedroom/Bed Sizes
• Master Suite #1 - King (Second Floor)
• Master Suite #2- King (Second Floor)
• Master Suite #3 - King (Second Floor)
• Master Suite #4 - King (Ground Floor)
• Bedroom #5 - Bunks Twin/Full/Twin (Second Floor)
•Bedroom #6 - Twin/Twin - Twin/Twin Bunk Beds (Second Floor)
• Bedroom #7 - King (Ground Floor)

General
• 8,200 sq. ft of luxury accommodation & balconies
• Loft area with baby grand piano that plays itself
• Overlooks 5th and 6th holes of the Tom Watson course
• Fully equipped kitchen and formal dinning area
• Fully equipped gym overlooking pool area
• SMART TV and DVD player in each bedroom
• Air conditioning and indoor ceiling fans
• Smoke-free and pet-free for your comfort
• Towels and linens are provided

Living Area
• 70" LED Smart Prism TV
• Over 330 channels. Plus Apple TV
• BluRay Player
• Sonos connect sound system
• Gas fireplace

Private Home Cinema
• Huge Private home cinema with 200" screen
• High-definition, 1080p theater experience
• Surround sound theater experience
• Luxury theater seating for 12
• Media player

Pool Area
• Sunny south facing position
• Large deck area with outdoor bar
• 40 ft pool and spill over spa
• Premium outside surround sound
• 10 sun loungers
• Fire pit -High Top Bar - Gas BBQ grill
• Built in pool alarm
•Table Tennis, Foosball and Pool basketball.

Private Gym
• Large selection of free weights
• Bench rack
• Power tower with dip station and pull up bar

Games Room
• Redline GT Full Racing Simulator
• Xbox One with 4 controllers & games
• PS4 with 4 controllers & games
• 4 Gaming chairs with built-in speakers
• Slate pool table
• Air-conditioned
• Media player
• Home theater sound system

Children's Equipment
• Top and bottom stair gates fitted
• Pack 'n' play & baby monitor
• High chair
• Selection of children`s toys and books
• Child safety pool alarm

Laundry Room
• Full size washer and dryer
• Ironing board & iron
Rental Policies
• Check in: 4:00 PM / check out: 10:00 AM
• Early or late check in/out: 1/2 nightly rate
• No smoking / No pets
• By state law occupancy of property must not be exceeded
• 20% non-refundable deposit due at time of booking
• Final payment due 30 days prior to your arrival
• 13.5% sales and tourist tax (not included in nightly rate)
• One-time departure cleaning fee required for all stays
• Pool heat available for an additional cost. If you would like the spa / hot tub to be heated you will need to add pool heat to your reservation
• Daily housekeeping services are available upon request
• The complimentary BBQ grill and Fire Pit are provided free of charge. Magical Vacation Homes and/or the Owner do not accept liability for equipment failure. It is the guest's responsibility to clean and maintain the barbecue and replenish Propane for the BBQ and Fire Pit as required
Checkin Available

Checkout Available

Not Available
The House at Reunion
7 Bedrooms
7.5 Bathrooms
16 Guests