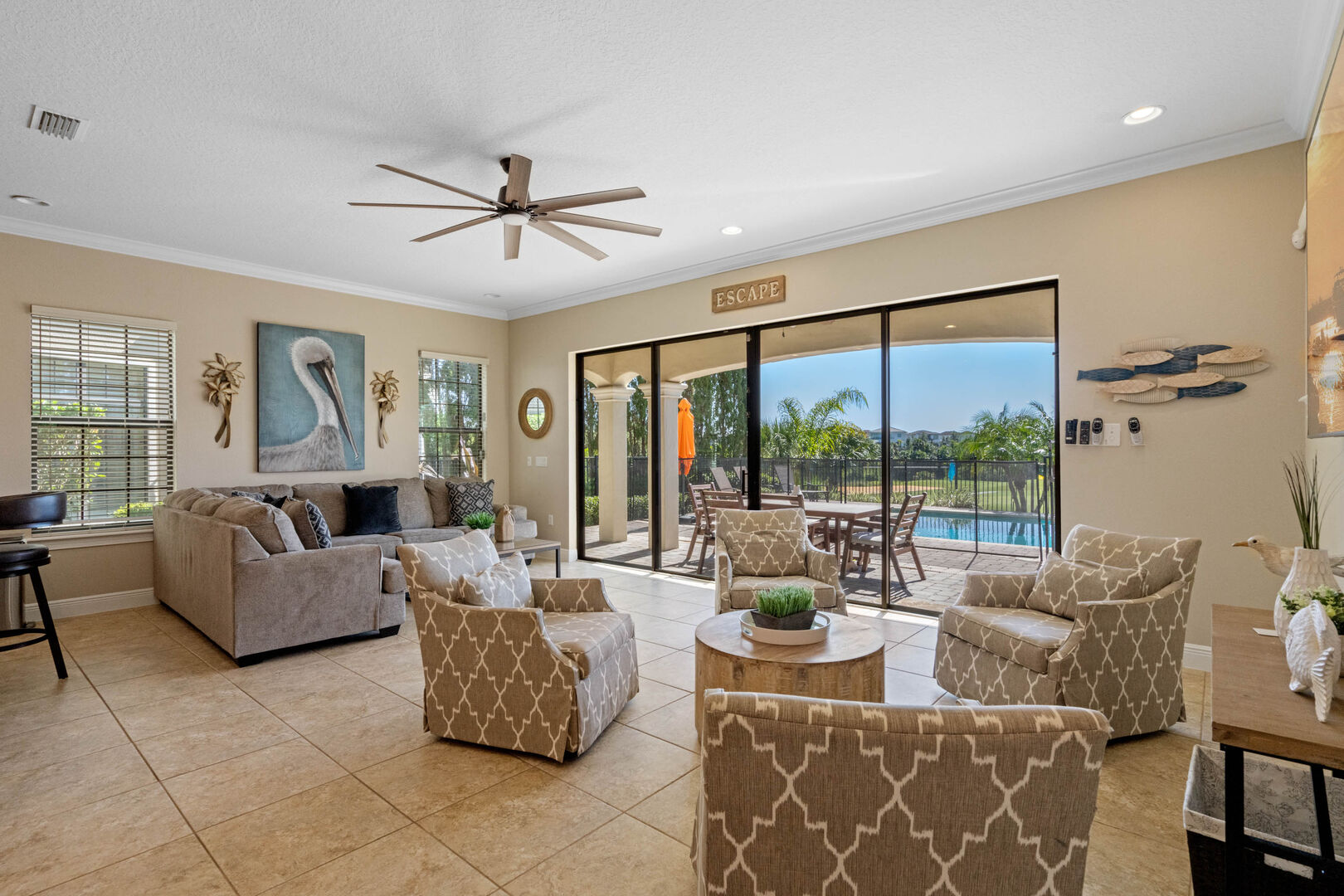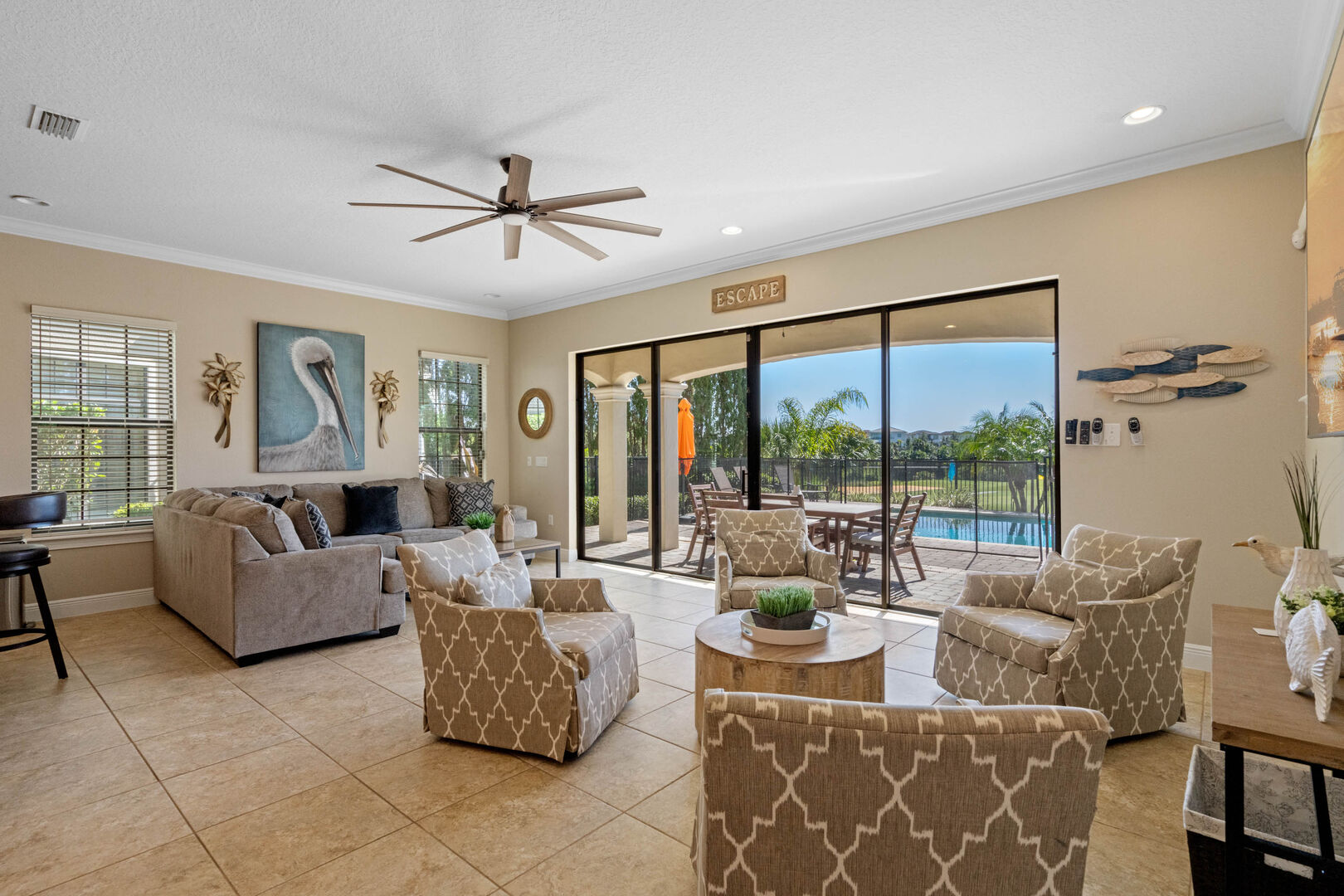 Description
Official Reunion Resort and Golf Club Vacation Home
Fairway Haven is a five bedroom vacation home featuring contemporary designs, golf course views, and an oversize pool!
Fairway Haven is a 5 bedroom/ 5.5 bathroom home, and an official vacation home of Reunion Resort Golf Club. When you book a Real Reunion home, you ensure that your family will have full and unlimited access* to all of our resort amenities. Fairway Haven includes daily access to our water park (no additional fees for entry); our fantastic recreation team offers activities for kids of all ages at the water park each day! Reunion Resort also boasts three private Signature golf courses, designed by Watson, Palmer, and Nicklaus; the only way to play is by staying with us! Dine in style at one of our amazing restaurants. We also offer 24-hour front desk, bell, and valet services to top off the Real Reunion difference. Exclusive theme park shuttle services are also available to ensure that you ll have a truly wonderful vacation, full of the best kind of memories.
This home features a gas pool heater. Vacation home swimming pools are not heated by default, nor is pool heat available for all homes. If you would like your pool heated, if available, it will have to be requested by the day of arrival and kept on for the duration of your stay. The cost is $75 per day depending on the size of the pool. Please note that it may take 12-24 hours for a pool or spa to reach its peak temperature. Pool heaters are designed to heat water temperature to approximately 10 degrees above the ambient air temperature. There is no option to only heat the spa since it is using the same water as the pool. The pool heaters operate on a timer and are set to come on in the morning and go off in the evening, therefore there will be some cooling off overnight when the air temperature drops. Guests are not permitted to access the pool heater at any time during their stay, this must be done by a trained engineer.
*Use of the garage and fire pit is prohibited for guests; it is for the use of the vacation home owner only
*Minor changes to home may not be reflected in website photos
Resort Amenities and Services*:
Three Championship Golf Courses designed by Arnold Palmer, Tom Watson and Jack Nicklaus
5-Acre Water Park and Lazy River
Numerous Resort Swimming Pools
Miniature Golf
Award-Winning Tennis and Pickle Ball Center
24-hour Business Center
On-site Restaurants Offering Fine Casual Dining
Fitness Centers
24-hour Front Desk with Concierge and Bell Services, located in Grande Lobby
Gated private resort with 24-hour Security
Housekeeping and Laundry Services
On-Resort Shuttle Service
Theme Park tickets and Transportation Services
*Reunion Resort Golf Club is a private resort. to some resort amenities does not include cost of services.
Cancellation Policy:
- 50% deposit due at time of booking which becomes non-refundable 48 hours after time of booking
- Full reservation value is due and non-refundable 30 days prior to arrival date
Availability
Checkin Available

Checkout Available

Not Available
Available

Checkin Available

Checkout Available

Not Available
Seasonal Rates (Nightly)
Select number of months to display:
3 Months
6 Months
9 Months
12 Months
Max
Official Reunion Resort and Golf Club Vacation Home

Fairway Haven is a five bedroom vacation home featuring contemporary designs, golf course views, and an oversize pool!

Fairway Haven is a 5 bedroom/ 5.5 bathroom home, and an official vacation home of Reunion Resort Golf Club. When you book a Real Reunion home, you ensure that your family will have full and unlimited access* to all of our resort amenities. Fairway Haven includes daily access to our water park (no additional fees for entry); our fantastic recreation team offers activities for kids of all ages at the water park each day! Reunion Resort also boasts three private Signature golf courses, designed by Watson, Palmer, and Nicklaus; the only way to play is by staying with us! Dine in style at one of our amazing restaurants. We also offer 24-hour front desk, bell, and valet services to top off the Real Reunion difference. Exclusive theme park shuttle services are also available to ensure that you ll have a truly wonderful vacation, full of the best kind of memories.

This home features a gas pool heater. Vacation home swimming pools are not heated by default, nor is pool heat available for all homes. If you would like your pool heated, if available, it will have to be requested by the day of arrival and kept on for the duration of your stay. The cost is $75 per day depending on the size of the pool. Please note that it may take 12-24 hours for a pool or spa to reach its peak temperature. Pool heaters are designed to heat water temperature to approximately 10 degrees above the ambient air temperature. There is no option to only heat the spa since it is using the same water as the pool. The pool heaters operate on a timer and are set to come on in the morning and go off in the evening, therefore there will be some cooling off overnight when the air temperature drops. Guests are not permitted to access the pool heater at any time during their stay, this must be done by a trained engineer.

*Use of the garage and fire pit is prohibited for guests; it is for the use of the vacation home owner only
*Minor changes to home may not be reflected in website photos

Resort Amenities and Services*:

Three Championship Golf Courses designed by Arnold Palmer, Tom Watson and Jack Nicklaus
5-Acre Water Park and Lazy River
Numerous Resort Swimming Pools
Miniature Golf
Award-Winning Tennis and Pickle Ball Center
24-hour Business Center
On-site Restaurants Offering Fine Casual Dining
Fitness Centers
24-hour Front Desk with Concierge and Bell Services, located in Grande Lobby
Gated private resort with 24-hour Security
Housekeeping and Laundry Services
On-Resort Shuttle Service
Theme Park tickets and Transportation Services

*Reunion Resort Golf Club is a private resort. to some resort amenities does not include cost of services.

Cancellation Policy:
- 50% deposit due at time of booking which becomes non-refundable 48 hours after time of booking
- Full reservation value is due and non-refundable 30 days prior to arrival date
Checkin Available

Checkout Available

Not Available
Available

Checkin Available

Checkout Available

Not Available
Seasonal Rates (Nightly)
Select number of months to display:
3 Months
6 Months
9 Months
12 Months
Max
Fairway Haven
5 Bedrooms
5 Bathrooms
14 Guests