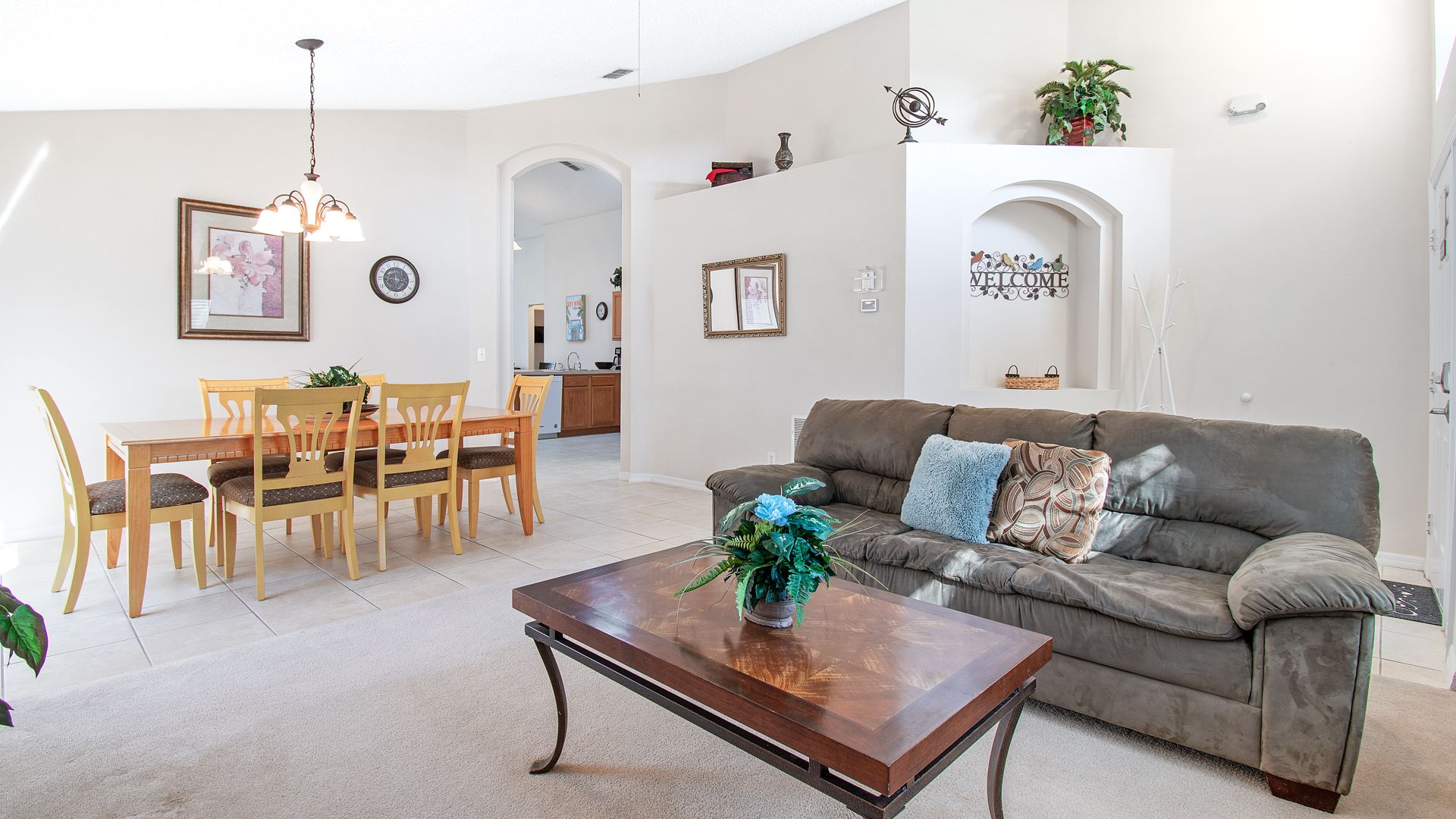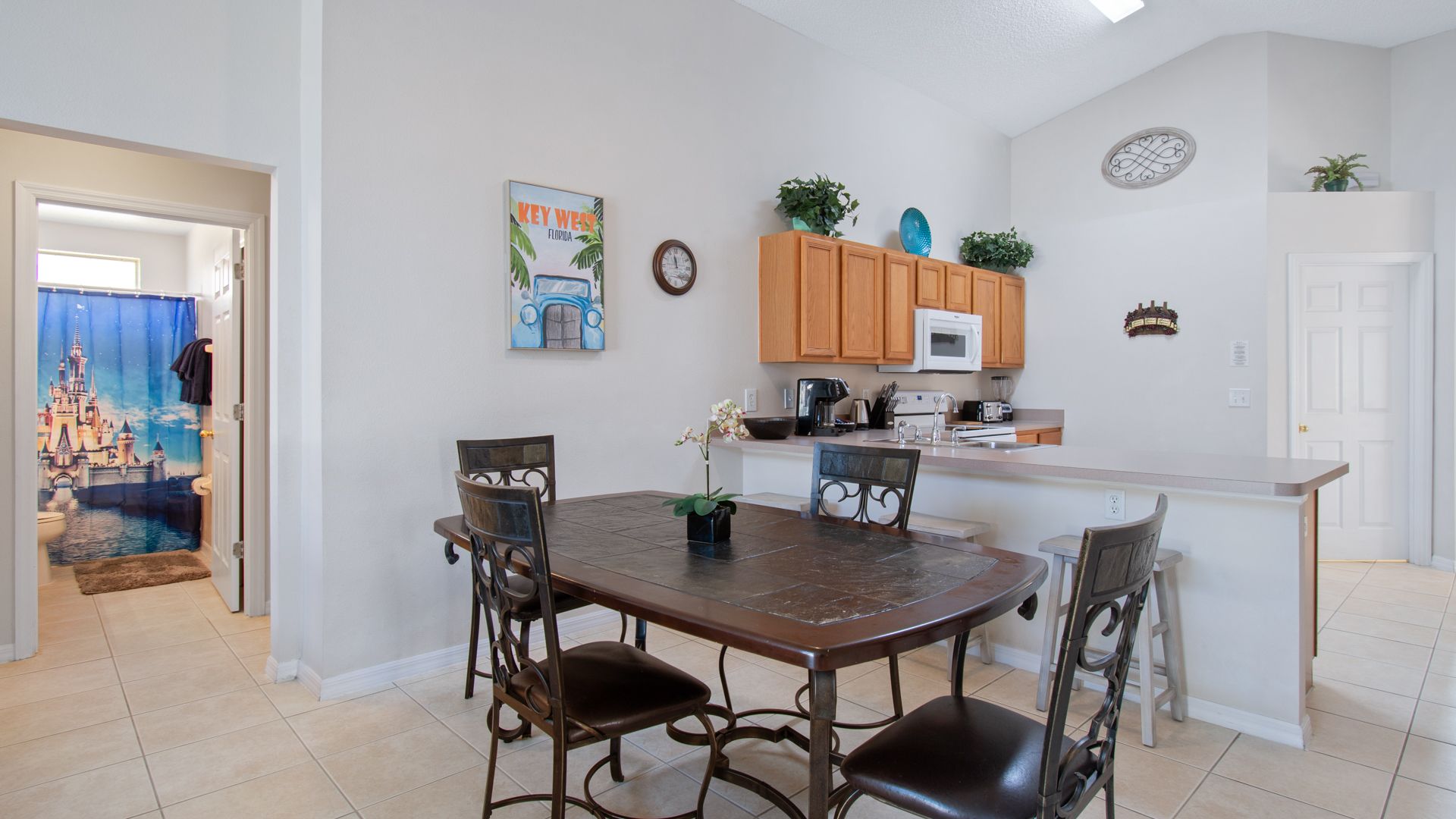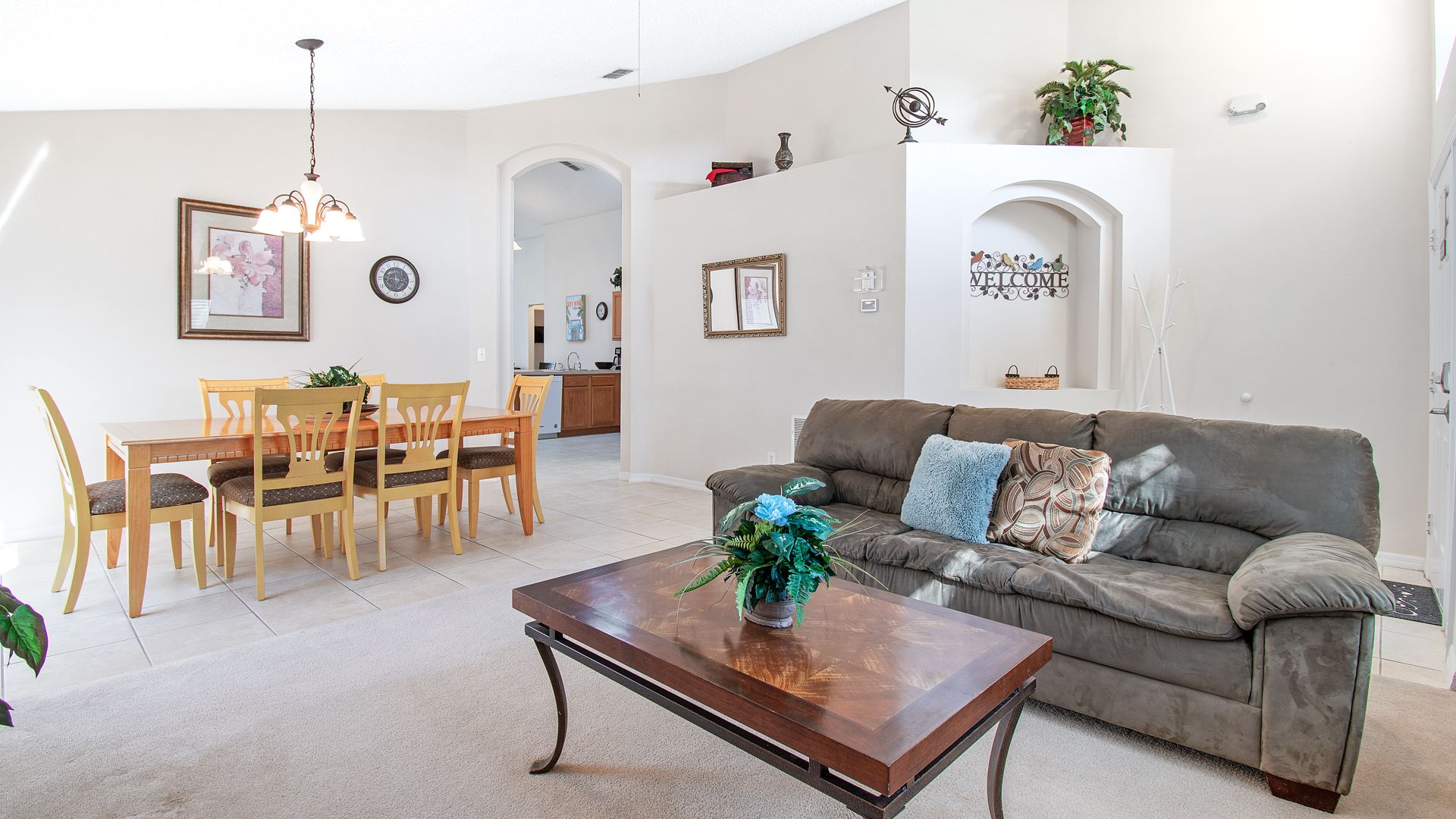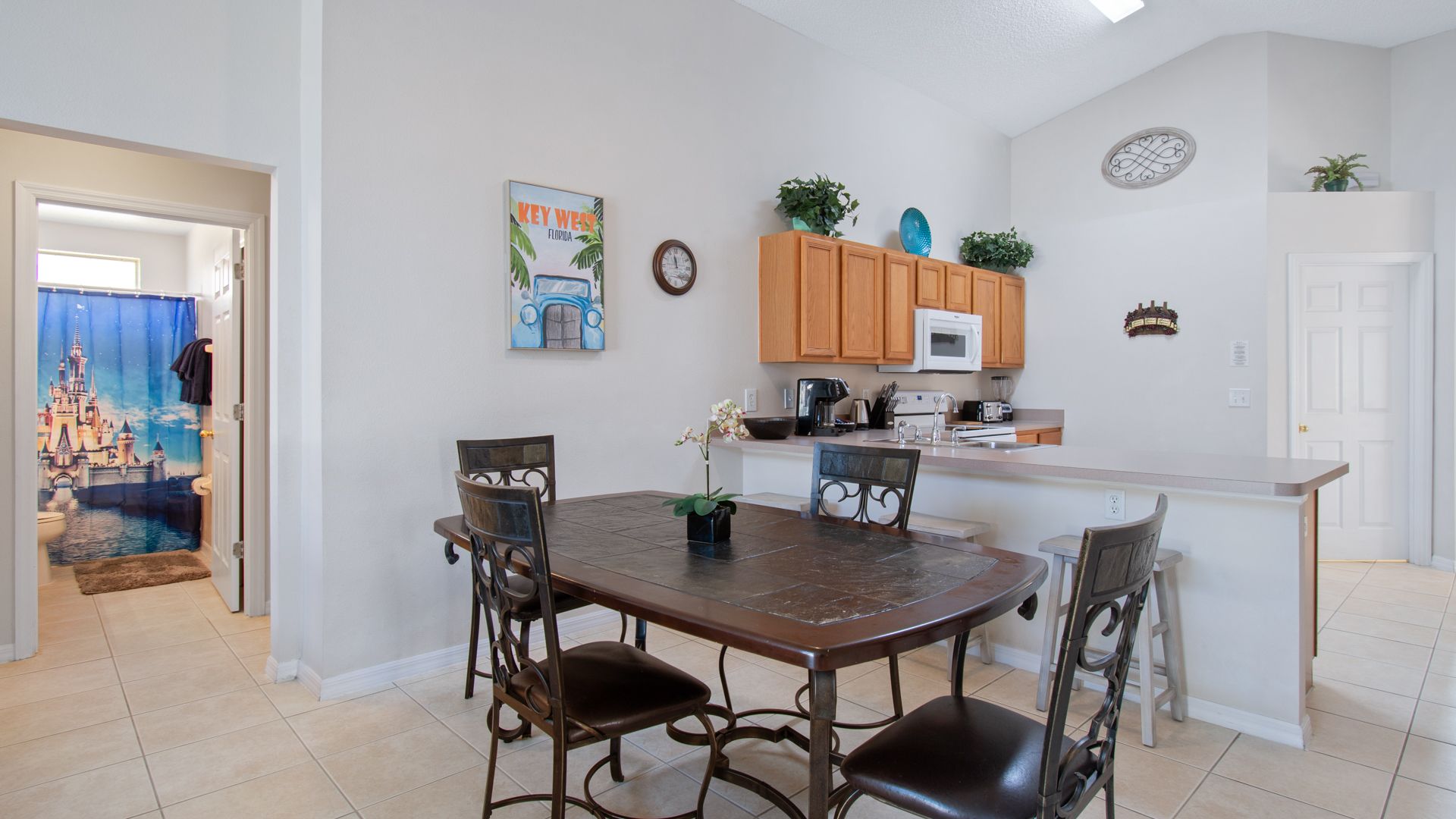 Description
This cozy 4 bedroom, 2 bathroom rental has everything you'll need for your next vacation. The living room has a large 50-inch Smart TV with Xbox One S, perfect for watching your favorite TV shows and movies, or gaming with family and friends. For added fun, the Xbox includes Xbox Game Pass Ultimate, you get over 100 high-quality games, plus EA Play and Xbox Live Gold (Instructions will be provided).The family room next to the kitchen is meant for relaxing and visiting, featuring comfortable seating with a view of the pool area. The home also provides a Google Home that is set up for guest use!
The home features an open concept kitchen which is perfect for whipping up your favorite meals. The dining room seats 6, while the kitchen nook seats an additional 4 (there's also seating available for poolside dining).
The en suite bedroom features a king bed with the bathroom showcasing a beautiful garden tub, perfect for relaxing after a long day at one of the many theme parks in the area. In addition to this, there is one queen bedroom and 2 bedrooms featuring 2 twin beds each, sleeping a total of 8 comfortably. There are flat-screen TVs in each of the bedrooms and FREE WiFi throughout.
Next, you can enjoy some fun in your very own game room! This Star Wars themed room includes everything you need to keep you and your family entertained, including a pool table, air hockey table, dartboard, and Pac-Man arcade game. Directly off of the game room is the laundry room with a full-size washer and dryer.
Relax outside lying on one of the many lounge chairs by your very own pool and spa while enjoying the sun! There is a large, screened-in lanai, comfortable seating and a dining area as well.
Come and stay at this stunning Emerald Island vacation home and also enjoy the clubhouse pool, bar and gym. Go for a spin on a Peloton bike in the gym.
In order to park inside the resort, each Visitor will be required to purchase a visitor access card for their vehicle, the cost of which is a non-refundable $20. Guests of Visitors will be allowed in the resort but are not expected to stay longer than 24 hours, otherwise, another access card will need to be purchased. In order for the guests to be able to use resort amenities, they will need to be accompanied by the Visitor registered to stay at the property. Once completing your booking, you will be receiving a payment link to purchase the access cards. That link will be sent 48-hours prior to your arrival via email provided at the time of booking.
Bedroom / Bed Sizes / TV Sizes
Master Suite 1 - One King Bed / Attached Bathroom / 32-inch TV
Bedroom 2 - One Queen Bed / 32-inch TV
Bedroom 3 - Two Twin Beds / 26-inch TV
Bedroom 4 - Two Twin Beds / 32-inch TV
There is an additional optional charge of $25 per day plus tax to heat the pool/spa. The spa will not heat up without the pool heater being turned on.
RESORT PARKING RULES:
THE RESORT ONLY ALLOWS 3 CARS
DO NOT BLOCK THE SIDEWALK OR PARK ON THE STREET OR YOU WILL BE FINED
3RD CAR NEEDS TO BE PARKED PARALLEL TO THE DRIVEWAY AS TO NOT BLOCK THE SIDEWALK
More on Emerald Island Resort
Enjoy Emerald Island, a beautiful gated community only 4.5 miles from the Walt Disney World® Resort theme parks with easy access to restaurants and world-class shopping. Your vacation home rental includes access to the Emerald Island clubhouse featuring:
Huge pool and spa
Pool bar
Multiple playgrounds
Video arcade
Distances
Walt Disney World® 3.4 miles
Orlando Airport 25 miles
Supermarket 2 miles
Dining 1 mile
Why Choose this Rental?
Professionally managed to serve all your needs
Management company has over 26 years of experience hosting well over 200,000 families
Go straight to your rental for easy check-in
24/7 on-call maintenance
Additional Info:
Free access to all resort amenities (no resort fees)
Free on-site parking
Smoke-free and pet-free for your comfort
Towels and linens are provided
Complimentary wireless internet* Pool/Spa heat is $25/day + tax for single-family homes and $15/day + tax for townhomes
Rental items available (e.g., 3 & 4 burner BBQs, cribs, pack n plays, strollers, high chairs, etc.)
To make your arrival a little easier on you, our starter welcome packet includes:
2 rolls toilet paper per bathroom
2 round hotel-size bar soap per bathroom
1 hotel-size shampoo/conditioner per full bathroom
1 roll paper towel
1 packet dishwasher detergent
2 trash bags size-13-gallon
1 small box laundry detergent (enough for one load)
Garbage can liners in each bedroom/bathroom small garbage cans
Any supplies beyond this are up to the guest to replenish, we do not restock these items.
This is an industry-standard practice.
No salt/pepper or cleaning supplies are stocked due to safety issues.
Please note our special deposit and cancellation policy for our guests who stay 28 days and longer, we welcome you!
Our longer-stay deposit and cancellation policy is different and an exception to what is noted for a shorter stay:
- When you reserve, we will collect a $1,500.00 deposit.
- Balance is due 60 days prior to arrival.
- If canceled 91 days or more prior to arrival - $250 is refundable.
- If canceled 89 - 61 days prior to arrival - entire $1,500 is non-refundable
Availability
Checkin Available

Checkout Available

Not Available
Available

Checkin Available

Checkout Available

Not Available
Seasonal Rates (Nightly)
Select number of months to display:
3 Months
6 Months
9 Months
12 Months
Max
This cozy 4 bedroom, 2 bathroom rental has everything you'll need for your next vacation. The living room has a large 50-inch Smart TV with Xbox One S, perfect for watching your favorite TV shows and movies, or gaming with family and friends. For added fun, the Xbox includes Xbox Game Pass Ultimate, you get over 100 high-quality games, plus EA Play and Xbox Live Gold (Instructions will be provided).The family room next to the kitchen is meant for relaxing and visiting, featuring comfortable seating with a view of the pool area. The home also provides a Google Home that is set up for guest use!

The home features an open concept kitchen which is perfect for whipping up your favorite meals. The dining room seats 6, while the kitchen nook seats an additional 4 (there's also seating available for poolside dining).

The en suite bedroom features a king bed with the bathroom showcasing a beautiful garden tub, perfect for relaxing after a long day at one of the many theme parks in the area. In addition to this, there is one queen bedroom and 2 bedrooms featuring 2 twin beds each, sleeping a total of 8 comfortably. There are flat-screen TVs in each of the bedrooms and FREE WiFi throughout.

Next, you can enjoy some fun in your very own game room! This Star Wars themed room includes everything you need to keep you and your family entertained, including a pool table, air hockey table, dartboard, and Pac-Man arcade game. Directly off of the game room is the laundry room with a full-size washer and dryer.

Relax outside lying on one of the many lounge chairs by your very own pool and spa while enjoying the sun! There is a large, screened-in lanai, comfortable seating and a dining area as well.

Come and stay at this stunning Emerald Island vacation home and also enjoy the clubhouse pool, bar and gym. Go for a spin on a Peloton bike in the gym.

In order to park inside the resort, each Visitor will be required to purchase a visitor access card for their vehicle, the cost of which is a non-refundable $20. Guests of Visitors will be allowed in the resort but are not expected to stay longer than 24 hours, otherwise, another access card will need to be purchased. In order for the guests to be able to use resort amenities, they will need to be accompanied by the Visitor registered to stay at the property. Once completing your booking, you will be receiving a payment link to purchase the access cards. That link will be sent 48-hours prior to your arrival via email provided at the time of booking.
Bedroom / Bed Sizes / TV Sizes
Master Suite 1 - One King Bed / Attached Bathroom / 32-inch TV
Bedroom 2 - One Queen Bed / 32-inch TV
Bedroom 3 - Two Twin Beds / 26-inch TV
Bedroom 4 - Two Twin Beds / 32-inch TV

There is an additional optional charge of $25 per day plus tax to heat the pool/spa. The spa will not heat up without the pool heater being turned on.

RESORT PARKING RULES:
THE RESORT ONLY ALLOWS 3 CARS
DO NOT BLOCK THE SIDEWALK OR PARK ON THE STREET OR YOU WILL BE FINED
3RD CAR NEEDS TO BE PARKED PARALLEL TO THE DRIVEWAY AS TO NOT BLOCK THE SIDEWALK

More on Emerald Island Resort

Enjoy Emerald Island, a beautiful gated community only 4.5 miles from the Walt Disney World® Resort theme parks with easy access to restaurants and world-class shopping. Your vacation home rental includes access to the Emerald Island clubhouse featuring:
Huge pool and spa
Pool bar
Multiple playgrounds
Video arcade
Distances
Walt Disney World® 3.4 miles
Orlando Airport 25 miles
Supermarket 2 miles
Dining 1 mile
Why Choose this Rental?
Professionally managed to serve all your needs
Management company has over 26 years of experience hosting well over 200,000 families
Go straight to your rental for easy check-in
24/7 on-call maintenance
Additional Info:
Free access to all resort amenities (no resort fees)
Free on-site parking
Smoke-free and pet-free for your comfort
Towels and linens are provided
Complimentary wireless internet* Pool/Spa heat is $25/day + tax for single-family homes and $15/day + tax for townhomes
Rental items available (e.g., 3 & 4 burner BBQs, cribs, pack n plays, strollers, high chairs, etc.)
To make your arrival a little easier on you, our starter welcome packet includes:
2 rolls toilet paper per bathroom
2 round hotel-size bar soap per bathroom
1 hotel-size shampoo/conditioner per full bathroom
1 roll paper towel
1 packet dishwasher detergent
2 trash bags size-13-gallon
1 small box laundry detergent (enough for one load)
Garbage can liners in each bedroom/bathroom small garbage cans
Any supplies beyond this are up to the guest to replenish, we do not restock these items.
This is an industry-standard practice.
No salt/pepper or cleaning supplies are stocked due to safety issues.

Please note our special deposit and cancellation policy for our guests who stay 28 days and longer, we welcome you!
Our longer-stay deposit and cancellation policy is different and an exception to what is noted for a shorter stay:
- When you reserve, we will collect a $1,500.00 deposit.
- Balance is due 60 days prior to arrival.
- If canceled 91 days or more prior to arrival - $250 is refundable.
- If canceled 89 - 61 days prior to arrival - entire $1,500 is non-refundable
High Chair
Pack n Play Travel Crib
Checkin Available

Checkout Available

Not Available
Available

Checkin Available

Checkout Available

Not Available
Seasonal Rates (Nightly)
Select number of months to display:
3 Months
6 Months
9 Months
12 Months
Max
2678 Emerald Island Blvd
4 Bedrooms
2 Bathrooms
8 Guests